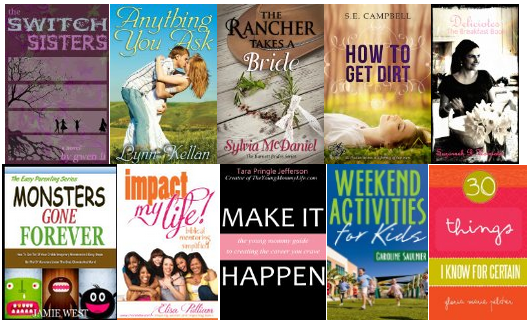 __________________________________________________________________________________________________
Every day Amazon offers a selection of Romance, Science Fiction, Fantasy and Teen titles at a discounted price.  Click below for the titles available today:

Kindle Daily Deals – Each day they unveil new Kindle book deals for adults and young readers with prices usually ranging $1.99-$2.99
Kindle Monthly Deals – Each month they unveil a new collection of 100 Kindle books for $3.99 or less.
___________________________________________________________________________________________________
Thanks to my friend and fellow blogger Jessica over at Living Chic on the Cheap you'll be able to check out this huge list of free kindle books currently available.
Please note that Amazon changes their offers without notice, so please make sure they are still free before you start downloading them:
Fiction
Mystery, Suspense & Action
Bangkok Rules
Romance
Translation of Love
Paranormal, Fantasy & Science Fiction
Shattered Skies: Beginning's End
Christian, Religious & Historical
Her Minnesota Man
Twisted Wolf
Lightning Strikes
Contemporary
Lonely Souls
Anything You Ask
Classics
Cloudy Jewel
Children's
Little Caterpillar And Cricket
Preteens
Cousins Forever – A Snowy Cove High School Novel
Young Adult
The Switch Sisters
Scarlet Vamporium
How to Get Dirt
Non-Fiction
Who Peed on My Yoga Mat?
30 Things I Know For Certain
Make It Happen: The Young Mommy Guide To Creating A Career You Crave
Impact My Life: Biblical Mentoring Simplified
MONSTERS GONE FOREVER: How To Get Rid Of All Your Childs Imaginary Monsters In 8 Easy Steps
Weekend Activities for kids
Cookbooks
Deliciotes – The Breakfast Book

Remember that you do not need a Kindle e-reader to be able to read this book. You can read it on your PC, iPhone, iPad
, Blackberry and Android. Just download for free the appropriate application to be able to do that. Amazon changes prices without notice, so make sure to check that the kindle price it is still $0.00 before you start downloading this book.