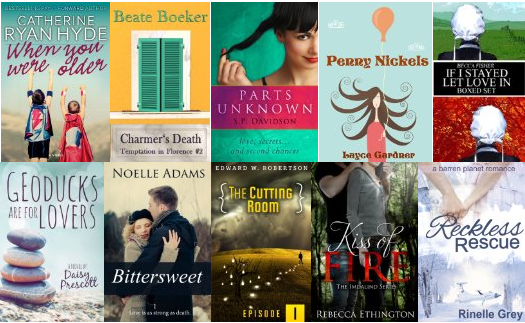 __________________________________________________________________________________________________
Every day Amazon offers a selection of Romance, Science Fiction, Fantasy and Teen titles at a discounted price.  Click below for the titles available today:

Kindle Daily Deals – Each day they unveil new Kindle book deals for adults and young readers with prices usually ranging $1.99-$2.99
Kindle Monthly Deals – Each month they unveil a new collection of 100 Kindle books for $3.99 or less.
___________________________________________________________________________________________________
Thanks to my friend and fellow blogger Jessica over at Living Chic on the Cheap you'll be able to check out this huge list of free kindle books currently available.
Please note that Amazon changes their offers without notice, so please make sure they are still free before you start downloading them:
Fiction
Mystery, Suspense & Action
Romance
Under A Harvest Moon
Paranormal, Fantasy & Science Fiction
Child of the Ghosts
The Cutting Room: Episode I
Christian, Religious & Historical
If I Stayed Let Love In Boxed Set
Contemporary
Bittersweet
Geoducks Are for Lovers
When You Were Older
Parts Unknown
Penny Nickels
Classics
Heart of Darkness
Children's
Alphabet Book of Animals from Africa
IT'S GOOD TO BE ME! (HUGO THE HAPPY STARFISH)
THE LAST BULLY (HUGO THE HAPPY STARFISH)
There's a Baby in Mommy's Belly!
Jackson's First Day of Kindergarten
Preteens
Castles in the Air
Young Adult
Skid
Indigo Vamporium
Non-Fiction
Immersion: Live the Life God Envisioned for You
Quirk Books Entertains Your Kids
Cookbooks
Cake Pop Creations: 25 Fun & Delicious Recipes

Remember that you do not need a Kindle e-reader to be able to read this book. You can read it on your PC, iPhone, iPad
, Blackberry and Android. Just download for free the appropriate application to be able to do that. Amazon changes prices without notice, so make sure to check that the kindle price it is still $0.00 before you start downloading this book.