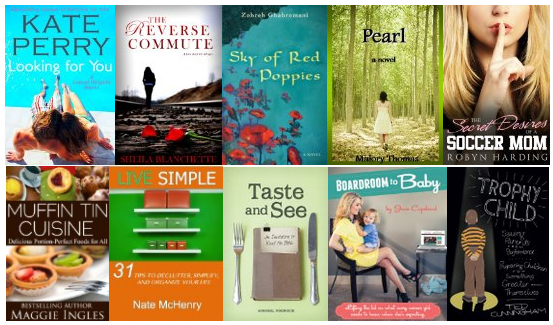 __________________________________________________________________________________________________
Every day Amazon offers a selection of Romance, Science Fiction, Fantasy and Teen titles at a discounted price.  Click below for the titles available today:

Kindle Daily Deals – Each day they unveil new Kindle book deals for adults and young readers with prices usually ranging $1.99-$2.99
Kindle Monthly Deals – Each month they unveil a new collection of 100 Kindle books for $3.99 or less.
___________________________________________________________________________________________________
Thanks to my friend and fellow blogger Jessica over at Living Chic on the Cheap you'll be able to check out this huge list of free kindle books currently available.
Please note that Amazon changes their offers without notice, so please make sure they are still free before you start downloading them:
Fiction
Mystery, Suspense & Action
The Secret Desires of a Soccer Mom
Romance
Emerald Embrace
The Marker
Paranormal, Fantasy & Science Fiction
The Greenwich Memoirs
A Summoner's Tale – The Vampire's Confessor
The Spirit Clearing
Christian, Religious & Historical
A Little Piece for Mother
Contemporary
The Reverse Commute
Sky of Red Poppies
Pearl
Classics
Twelfth Night
Children's'
The Princess ABC Picture Book
Butterfly Picture Book For Kids
Freddie The Fire Engine
Goldilocks and the Three Bears
Preteens
The Cape Beanery Chronicles
Treasure Quest: A Short Story
Young Adult
Girl Perfect
Finding Eden
Non-Fiction
Trophy Child: Saving Parents from Performance, Preparing Children for Something Greater Than Themselves
Live Simple: 31 Tips To Declutter, Simplify, And Organize Your Life
Real Clever Solutions & Ideas: Tips and Tricks to Save You Time and Money
Boardroom to Baby: Lifting the lid on what every career girl needs to know when she's expecting.
Taste and See: An invitation to read the Bible
Cookbooks
Muffin Tin Cuisine
Paleo Soups and Stews. 50 Delicious Gluten Free Natural Food Recipes

Remember that you do not need a Kindle e-reader to be able to read this book. You can read it on your PC, iPhone, iPad
, Blackberry and Android. Just download for free the appropriate application to be able to do that. Amazon changes prices without notice, so make sure to check that the kindle price it is still $0.00 before you start downloading this book.