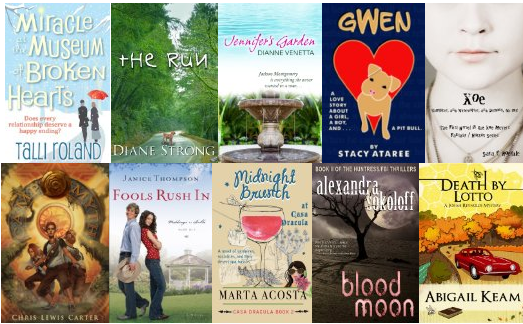 Thanks to my friend and fellow blogger Jessica over at Living Chic on the Cheap you'll be able to check out this huge list of free kindle books currently available.
Please note that Amazon changes their offers without notice, so please make sure they are still free before you start downloading them:
Fiction
Mystery, Suspense & Action
Cold Fear
Romance
Iced Romance
Marti Talbott's Highlander Series 1
Paranormal, Fantasy & Science Fiction
Midnight Brunch at Casa Dracula
Christian, Religious & Historical
Song at Dawn; 1150 in Provence
Contemporary
The Guestbook
Miracle at the Museum of Broken Hearts: A Novella
Jennifer's Garden
Classics
The Valley of Fear
Children's
Let's Talk About Feeling Angry
Billy and Monster's New Neighbor Has a Secret
Hey, Kitty Kitty!
Mikey the Backpack Monster
The Fantastic Treehouse
KiteReaders Classics – The Tale of the Flopsy Bunnies
Preteens
The Last Voyage of the Mermaid
Young Adult
Catching On Fire
Ripple: Young Adult Version
Xoe: or Vampires, and Werewolves, and Demons, oh my!
Camp Myth: Phoenix Watching
Gwen: A Love Story About a Girl, a Boy, and a Pit Bull
Non-Fiction
Simply Fleece
Knitting for Knitwits: The Quick and Easy Learn to Knit Guide
Proverbs for Kids – A Family Devotional Guide
Making Sense of People: Decoding the Mysteries of Personality
FranklinCovey Style Guide: For Business and Technical Communication
Painting with Mixed Media
Stories of Tails – Fun and Inspirational Short Stories About Dogs and Their Parents
Cookbooks
Gluten Free Desserts: Fast, Easy, Healthy and Delicious!
Muffin Tin Meals
31 Gluten Free Cake and Frosting Recipes
______________________________________________________________________________________________________

Remember that you do not need a Kindle e-reader to be able to read this book. You can read it on your PC, iPhone, iPad
, Blackberry and Android. Just download for free the appropriate application to be able to do that. Amazon changes prices without notice, so make sure to check that the kindle price it is still $0.00 before you start downloading this book.