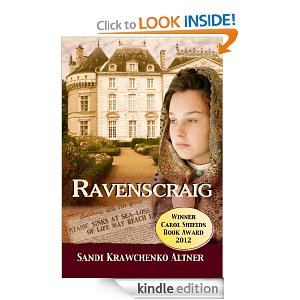 If you are a Downton Abbey Fan you may enjoy this historical romance book currently available for free in kindle format: Ravenscraig by Sandi Krawchenko Altner.
Book Description

Romance, scandal, and tragedy grip the lives of two families and threaten to destroy them both in Ravenscraig, by Sandi Krawchenko Altner.

Nothing is more important to Rupert J. Willows than the image he has built to hide the deep secret of his true identity. A master manipulator, the ruthless and charismatic Rupert buys his way into the upper class when he purchases the opulent mansion, Ravenscraig Hall. It is the turn of the 20th century in one of the fastest growing cities in North America. True power is within Rupert's grasp as long as his secret stays buried.

Malka Zigman is a survivor. Orphaned in London, she sails to Canada to join her Uncle Zev and his family. With family resources stretched thin, Malka takes a risk. Armed with an English accent that belies her Jewish roots, she reinvents herself as Maisie Rosedale to gain entrance to the exclusive world of "the English" as the new maid at Ravenscraig Hall.  Pitching rich against poor in a brawling, raucous frontier city in the early 1900s, Ravenscraig brings to life the daily challenges of the booming population. Love, anger and the determination to succeed at all costs, fuel
the treacherous journey ahead.
Please note this kindle book is free to anyone at the moment. But Amazon changes their offers without notice. Please make sure it is still free before you start downloading it.
Remember that you do not need a Kindle e-reader to be able to read this book. You can read it on your PC, iPhone, iPad
, Blackberry and Android. Just download for free the appropriate application to be able to do that. Amazon changes prices without notice, so make sure to check that the kindle price it is still $0.00 before you start downloading this book.