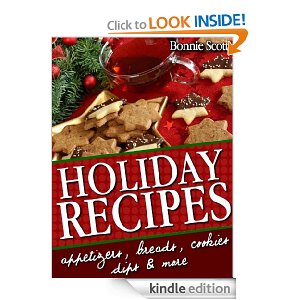 Well, the Holidays really are around the corner now.  If you are looking for some recipe inspiration of homemade gifts ideas consider the ebook Holiday Recipes: 150 Easy Recipes and Gifts From Your Kitchen available in Kindle format for free at the moment.
Book Description
Give a gift of love this holiday season with homemade favorites from your kitchen. Everyone leads such busy lives, and gifts from your kitchen are thoughtful and much appreciated tokens of affection for family, friends and co-workers.

This 150 holiday recipe collection includes strategies to make your preparations easier, as well as tips to make your finished products tastier and more attractive. We also include loads of unique ideas to package your creations for gifts that are memorable and maybe even photo worthy.

Holiday Recipes not only has 150 recipes for your holiday table, but has all kinds of ideas for gifts from your kitchen, including an internet address for free printables – Christmas cookie pouches, bag toppers and hang tags for your baked goods. Give your homemade gifts in style this year.
Please note this kindle book is free to anyone at the moment. But Amazon changes their offers without notice. Please make sure it is still free before you start downloading it.
Remember that you do not need a Kindle e-reader to be able to read this book. You can read it on your PC, iPhone, iPad
, Blackberry and Android. Just download for free the appropriate application to be able to do that. Amazon changes prices without notice, so make sure to check that the kindle price it is still $0.00 before you start downloading this book.