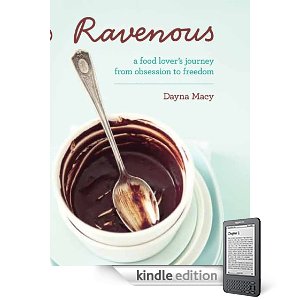 Right now you can download for free the Kindle title Ravenous: A Food Lover's Journey from Obsession to Freedom
by Dayna Macy.
The product description says:
Like many of us, Macy has had a complicated relationship with food. In order to transform this relationship, Macy embarks on a year-long journey to uncover the origins of her food obsessions. From her childhood home in upstate New York, and back up the California coast, Macy travels across the country, meeting with farmers, food artisans, butchers, a Zen chef, a forager, a chocolatier, and others—to understand where her meals come from, why she craves certain foods, and what food means to her. She looks at how nostalgia is deeply embedded in food, and how the powerful forces of family and tradition shape our food choices. Rather than head straight for the diet manuals, she chooses to change her relationship with food from the inside out. She delves deeper into the spiritual underpinnings of eating, examines what it means to be satisfied, and ultimately forges her own path to balance and freedom.
Remember that you do not need a Kindle e-reader to be able to read this book. You can read it on your PC, iPhone, iPad
, Blackberry and Android. Just download for free the appropriate application to be able to do that. Amazon changes prices without notice, so make sure to check that the kindle price it is still $0.00 before you start downloading this book.