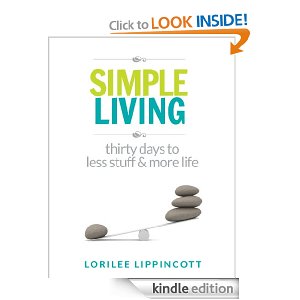 Great timing for this ebook [easyazon-link asin="B009FKUGDW"]Simple Living – 30 days to less stuff and more life[/easyazon-link]!  You can download it for free in kindle format from Amazon at the moment.
Book Description

Need a bit more simple in your life but unsure where to start? Simple Living is written for you. Using minimalist principles I have created a 30 day course, taking less than 1 hour a day that I guarantee will give you a simpler life.

Simple Living's 30 days balances both tangible clutter as well as intangible clutter. This is not a course about cleaning. This course and these lessons are about change. Not only will you have a simpler and cleaner home after this course but the steps have been put in place for it to stay that way.

This course is created to tackle thirty different clutter areas, showing you where they are and how to start working with them. After the course you will have the skills and tools to keep working in the areas that you personally still need to work in.

This course is created to answer the question "Where do I begin?" and "How do I start?"If you will commit to 60 minutes for 30 days I guarantee you will see dramatic change.
Please note this kindle book is free to anyone at the moment. But Amazon changes their offers without notice. Please make sure it is still free before you start downloading it.
Remember that you do not need a Kindle e-reader to be able to read this book. You can read it on your PC, iPhone, iPad
, Blackberry and Android. Just download for free the appropriate application to be able to do that.