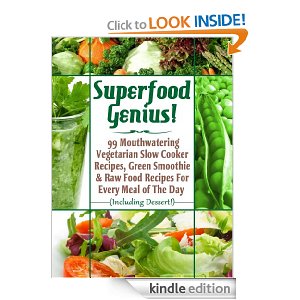 The ebook [easyazon-link asin="B009POU7NW"]Superfood Genius! 99 Mouthwatering Vegetarian Slow Cooker Recipes, Green Smoothie & Raw Food Recipes For Every Meal of The Day (Including Dessert!)[/easyazon-link] is available in kindle format for free right now.  This is a $8.97 value that Amazon has free.  "This collection of 99 recipes covers everything, from slow cooker soups, green smoothies and salads to Friday night dinners and dessert. Every recipe in this book includes not just one, but several superfoods, making them incredibly nutritious and showing just how simple it can be to make healthy choices for every meal of the day.
Please note this kindle book is free to anyone at the moment. But Amazon changes their offers without notice. Please make sure it is still free before you start downloading it.
Remember that you do not need a Kindle e-reader to be able to read this book. You can read it on your PC, iPhone, iPad
, Blackberry and Android. Just download for free the appropriate application to be able to do that. Amazon changes prices without notice, so make sure to check that the kindle price it is still $0.00 before you start downloading this book.