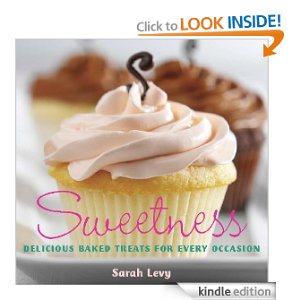 You can get the ebook Sweetness: Delicious Baked Treats for Every Occasion in kindle format for free at the moment.
Book Description

Publication Date: April 28, 2010
When 27-year-old Sarah Levy opened her own pastry shop in 2004, she was barely out of college. She hails from a noted Chicago-based restaurant dynasty, but the success she's achieved has been all hers, and she's since gone on to open a second location inside Macy's. Sweetness shows how anyone can make delicious desserts and sweet snacks regardless of cooking experience (or lack thereof) — especially younger women who may not have a lot of kitchen training, but want to have a few go-to recipes for events, gifts, or that special someone. This is the book for readers who want to learn how to make top-quality treats that will knock the socks off anyone who samples them. Levy's warm personality, step-by-step instructions, and vibrant color photos make this the perfect addition to the bookshelf of both budding chefs and seasoned pros.
Please note this kindle book is free to anyone at the moment. But Amazon changes their offers without notice. Please make sure it is still free before you start downloading it.
Remember that you do not need a Kindle e-reader to be able to read this book. You can read it on your PC, iPhone, iPad
, Blackberry and Android. Just download for free the appropriate application to be able to do that. Amazon changes prices without notice, so make sure to check that the kindle price it is still $0.00 before you start downloading this book.