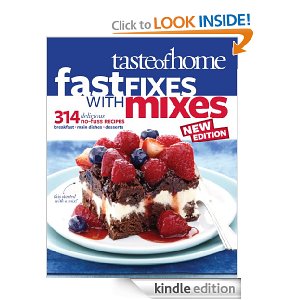 Gosh, I have downloaded so many free recipe ebooks from Amazon what I really need to do is start cooking!! haha! but I can't help myself to one more and this one from Taste of Home sounds really good:  [easyazon-link asin="B007HU7M0M"]Taste of Home Fast Fixes with Mixes New Edition: 314 Delicious No-Fuss Recipes[/easyazon-link].  It's available fr free at the mkment.  This is a $15.99 value.  Here's the book description:
This unique book contains 355 delicious recipes from home cooks. With the aid of store-bought mixes and seasoning packets sensational meals home-cooked meals can be made with a minimum of kitchen prep time and effort.

Recipes Include:

Italian Sausage Bread
Light 'n' Crispy Waffles
Black Forest Cake
Chicken 'n' Biscuits
Creole Shrimp & Rice
Puffed Pizza Casserole
Dreamy Creamy Peanut Butter Pie
Buttery Almond Green Beans
Easy Spanish Rice
Ranch Pretzels
Please note this kindle book is free to anyone at the moment. But Amazon changes their offers without notice. Please make sure it is still free before you start downloading it.
Remember that you do not need a Kindle e-reader to be able to read this book. You can read it on your PC, iPhone, iPad
, Blackberry and Android. Just download for free the appropriate application to be able to do that. Amazon changes prices without notice, so make sure to check that the kindle price it is still $0.00 before you start downloading this book.