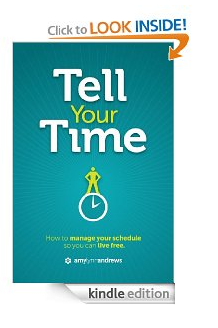 The ebook [easyazon-link asin="B005F0H7BK"]Tell Your Time: How to Manage Your Schedule So You Can Live Free[/easyazon-link] in kindle format can be downloaded for free right now.  This offer is valid 11/26 and 11/27.
Book Description
Tell Your Time is a very short, practical ebook outlining a straightforward yet effective approach to time management. A book about time management shouldn't take long to read and implement. There shouldn't be a lot of fluff and filler. This one is specifically designed to help you identify what's most important in your life, set meaningful goals and develop a workable schedule so nothing of value falls through the cracks…all within a few hours.
Remember that you do not need a Kindle e-reader to be able to read this book. You can read it on your PC, iPhone, iPad
, Blackberry and Android. Just download for free the appropriate application to be able to do that. Amazon changes prices without notice, so make sure to check that the kindle price it is still $0.00 before you start downloading this book.