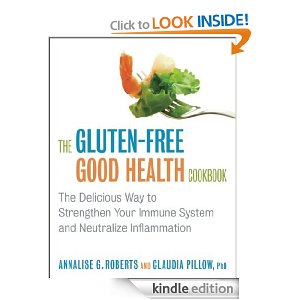 You can download the ebook [easyazon-link asin="B003P9XDWA"]The Gluten-Free Good Health Cookbook: The Delicious Way to Strengthen Your Immune System and Neutralize Inflammation[/easyazon-link] for free in Kindle Format.
Book Description

From Annalise Roberts, author of the celebrated Gluten-Free Baking Classics, and Claudia Pillow, PhD, comes this new full-scale gluten-free cookbook–a breakthrough in healthier eating, featuring 140 great new recipes. The Gluten-Free Good Health Cookbook is a true departure from other diet cookbooks–learn how you can make daily decisions that will strengthen your immune system, prevent disease, and help you lose weight by eating real food.
The book includes compelling food choice explanations, guidance, and cooking advice, plus 140 field-tested recipes, including gluten-free roux for Macaroni and Cheese; traditional pan sauce gravies; innovative low-fat sauces and creamy soups; and a comprehensive chapter on the art and science of cooking great-tasting vegetables.
Readers will enjoy a wide selection of flavorful and diverse recipes like Buffalo Meatballs, Roasted Poblano Asiago Soup, Kale with Puttanesca Sauce, Chicken Noodle Gratin, Moroccan Lamb Stew, and more.
Please note this kindle book is free to anyone at the moment. But Amazon changes their offers without notice. Please make sure it is still free before you start downloading it.
Remember that you do not need a Kindle e-reader to be able to read this book. You can read it on your PC, iPhone, iPad
, Blackberry and Android. Just download for free the appropriate application to be able to do that. Amazon changes prices without notice, so make sure to check that the kindle price it is still $0.00 before you start downloading this book.