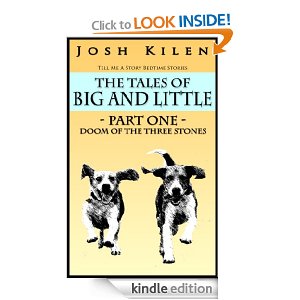 Here is a new bedtime story for the kids in kindle format that can be downloaded for free right now. Please note these kindle books are free to anyone at the moment. But Amazon changes their offers without notice. Please make sure it is still free before you start downloading it.  Here is what's available:
[easyazon-link asin="B005G4Q9XM"]The Tales of Big and Little: Doom of the Three Stones (Tell Me A Story Bedtime Stories for Kids)[/easyazon-link] 
About The Tales of Big and Little – Part One: Doom of the Three Stones…
Big and Little are two dogs who love cheese. They would never have imagined
that this love would take them to another world, to do battle with the
ferocious feline, Shirlee, and his army of animated Pizza Crusts! Follow
Big and Little as they try to foil Shirlee's plans to take over the
worlds!
Remember that you do not need a Kindle e-reader to be able to read this book. You can read it on your PC, iPhone, iPad
, Blackberry and Android. Just download for free the appropriate application to be able to do that. Amazon changes prices without notice, so make sure to check that the kindle price it is still $0.00 before you start downloading this book.