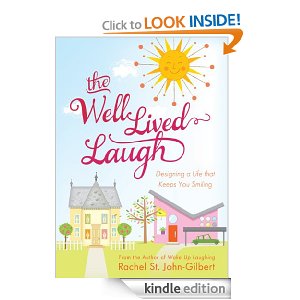 Start your new year with a laugh.  Let the ebook The Well-Lived Laugh: Designing a Life that Keeps You Smiling available for free in kindle format give you a good dose of humor.
Book Description
Ladies, a little perspective can change everything—and owning your own perspective (with a good dose of humor) is what The Well-Lived Laugh is all about. Brand-new from humor writer Rachel St. John-Gilbert (author of Wake Up Laughing and Laugh Yourself to Sleep), The Well-Lived Laugh: Designing a Life that Keeps You Smiling offers a quirky look at life's crazy-making pressures—body image, relationships, social networking, the food police—and encouragement to develop your own unique perspective to help eliminate those pressures. Through her hilarious observations, St. John-Gilbert will help you embrace the beauty in life that comes through each experience, whether planned or not.
Please note this kindle book is free to anyone at the moment. But Amazon changes their offers without notice. Please make sure it is still free before you start downloading it.
Remember that you do not need a Kindle e-reader to be able to read this book. You can read it on your PC, iPhone, iPad
, Blackberry and Android. Just download for free the appropriate application to be able to do that.