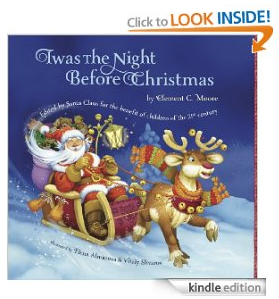 Do you read any special holiday books?  Right now you can get Twas The Night Before Christmas available in Kindle format for free at the moment.  Get it while it's free!
Book Description
Whose tiny faces are peeking out from Santa's golden sleigh? Yikes! It's two of Santa's elves who are Christmas Eve stowaways. Beloved illustrator Jan Brett's version of The Night Before Christmas lets these two mischievous elves add their rambunctious spirit to this familiar 1823 rhyming story.
Please note this kindle book is free to anyone at the moment. But Amazon changes their offers without notice. Please make sure it is still free before you start downloading it.
Remember that you do not need a Kindle e-reader to be able to read this book. You can read it on your PC, iPhone, iPad
, Blackberry and Android. Just download for free the appropriate application to be able to do that. Amazon changes prices without notice, so make sure to check that the kindle price it is still $0.00 before you start downloading this book.