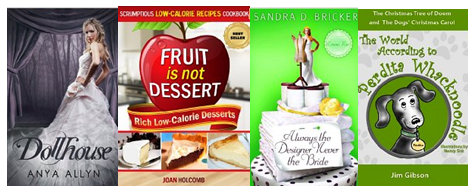 Here are a few books in kindle format that can be downloaded for free right now. Please note these kindle books are free to anyone at the moment. But Amazon changes their offers without notice. Please make sure it is still free before you start downloading it.  Here is what's available:
Fiction
Black Flagged
Dollhouse (The Dollhouse Trilogy)
Voice
Always the Designer, Never the Bride: An Emma Rae Creation
Completely Restored
Non-Fiction
Where Is God When It Hurts?
Survival 101: The Essential Guide to Saving Your Own Life in a Disaster
Cookbooks
The Christmas Cookie Plate: 50 Years of Award-Winning Cookie Recipes from the Russell Kitchen
25 Simple Casserole Recipes for Any Occasion
Fruit Is Not Dessert: Rich Low-Calorie Desserts (Scrumptious Low-Calorie Recipes Cookbook)
Children's
Peek-A-Boo Jungle: A Fun Guessing Book For Little Ones
The World According to Perdita Whacknoodle: Two Christmas Stories
Spiders: Amazing Photos & Fun Facts on Animals in Nature (Our Amazing World Series)
Jane's Transformation (The Magical Pony School)
Pre-Teen's/ Teens
The Goddess Hunt (Goddess Test)
Jack Templar Monster Hunter: The Templar Chronicles: Book One
Treasure Island
Remember that you do not need a Kindle e-reader to be able to read this book. You can read it on your PC, iPhone, iPad
, Blackberry and Android.
Just download for free the appropriate application to be able to do that. Amazon changes prices without notice, so make sure to check that the kindle price it is still $0.00 before you start downloading this book.
Thanks for the great list,  Jessica's Coupons