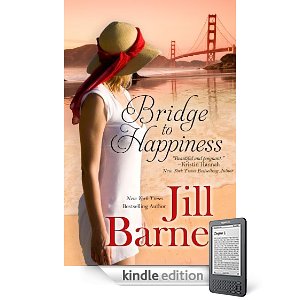 Right now you can download the title Bridge To Happiness
by Jill Barnet for Kindle for FREE on Amazon. The description for this book reads:
From the luxury of San Francisco's famous hills to the wild freedom of the majestic snow-covered Sierra Mountains, BRIDGE TO HAPPINESS is the intensely dramatic story of one woman's life, the idyllic moments, her humanity, her love, and finally, the difficult road she must walk alone…to discover the strong woman she is destined to become. When March Randolph meets Mike Cantrell, she has no idea how her life will change, and how time will change her. For over three decades she and Mike forge a marriage, a family and a business together, helping to make snowboarding into a popular, worldwide winter sport, and raising four strong-willed and independent children into a adulthood, never once fearing the future won't be as golden as their past. In a heartbeat everything changes, and March and her family suffer a tragic change, one that drives a schism into her once perfect life, and will test the bonds of love and family far beyond any definition of recovery. Suddenly March is stuck in the past, unable to move forward, and only if she, alone, finds the strength and will to move on, can any of the Cantrells have a single, glimmer of hope at a new life of happiness. "Bridge To Happiness is a beautiful and poignant exploration of loss, love and unexpected opportunities.
Remember that you do not need a Kindle e-reader to be able to read this book.  You can read it on your PC, iPhone, iPad
, Blackberry and Android.  Just download for free the appropriate application to be able to do that.  Amazon changes prices without notice, so make sure to check that the kindle price it is still $0.00 before you start downloading this book.