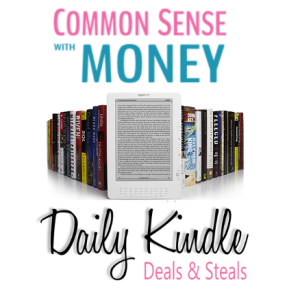 Every day Amazon offers a selection of Romance, Science Fiction, Fantasy and Teen titles at a discounted price.
Kindle Daily Deals – Each day they unveil new Kindle book deals for adults and young readers with prices usually ranging $1.99-$2.99. These are only discounted for today. 

Kindle Monthly Deals – Each month they unveil a new collection of 100 Kindle books for $3.99 or less.
Kindle Freebies – There are always Kindle freebies available. Many are only available for free for a limited time, so grab them while you can!
You can also get a short list of free and cheap ebooks delivered to your inbox each day when you sign up for BookBub. Here are  some of the freebies I've found today:
Business & Money
How to Outsmart Your Inbox: 25 Email Tricks for Busy Professionals
Survive to Thrive: Five Steps To Building Your Dream Business
The Ultimate Morning Routine: How To Use The Hour Of Power To Set Yourself Up For A Productive And Successful Day
Children's eBooks
Princess Callie and the Totally Amazing Talking Tiara (The Callie Chronicles Book 1)
The Leopard Tree
The Girl Who Got Out of Bed
Cat Land: Midnight's Gambit
Cookbooks, Food & Wine
The Modern Girls' Guide to Bread Baking: Tips & Tricks for Creating the Perfect Loaf.
Summer Delights: 30 Delicious Recipes Perfect to Cook during the Warm Summer Months
Daniel Fast Pasta: The Essential Daniel Fast Pasta Cookbook (Dairy-Free, Vegan)
Canning Guide For Beginners, How To Guide With Recipes: How To Can vegetables, Fruits, Pickles, Salsa, Meat, Fish, Poultry, Wild Game
Mini Farming: Becoming Self Sufficient Through Homesteading And Organic Gardening, Gardening For Beginners
Urban Beekeeping: How you can easily begin beekeeping at home, no matter where you live!
Ballet Flats – Quick and Easy Crochet Pattern
Health, Fitness & Dieting
Atkins Diet Recipes Under 30 Minutes Vol. 1: Over 30 Atkins Recipes For All Phases & Includes Atkins Induction Recipes (Atkins Diet Cookbook)
50 Exciting Beauty Secrets For Women
Mystery, Thriller & Suspense
Hushabye (A Kate Redman Mystery: Book 1) (The Kate Redman Mysteries)
Man of Steel (Cold Cases Book 1)
Deadly Magic (A Grace Holliday Cozy Mystery Book 1)
Collapse (New America-Book One 1)
Summer People (A Ray Elkins Thriller Book 1)
Parenting & Relationships
How To Stop Enabling Your Adult Children
My Kids Are All Grown Up, So Why Are They Still Driving Me Crazy?
Romance
Only For You (Forever and Always Book 1)
Tear (A Seaside Novel Book 1)
My Temporary Life-Book One of the My Temporary Life Trilogy

Remember, though, that you do not need a Kindle e-reader to be able to read this book. You can read it on your PC, iPhone, iPad
, Blackberry and Android. Just download for free the appropriate application to be able to do that. Amazon changes prices without notice, so make sure to check that the kindle price it is still $0.00 before you start downloading this book.