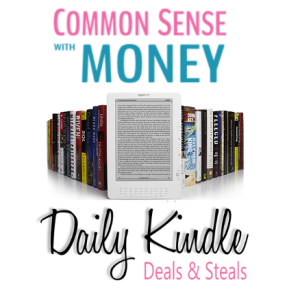 Every day Amazon offers a selection of Romance, Science Fiction, Fantasy and Teen titles at a discounted price.
Kindle Daily Deals – Each day they unveil new Kindle book deals for adults and young readers with prices usually ranging $1.99-$2.99. These are only discounted for today. 

Kindle Monthly Deals – Each month they unveil a new collection of 100 Kindle books for $3.99 or less.
Kindle Freebies – There are always Kindle freebies available. Many are only available for free for a limited time, so grab them while you can!
You can also get a short list of free and cheap ebooks delivered to your inbox each day when you sign up for BookBub. Here are  some of the freebies I've found today:
Business & Money
Everything You Need to Know About Personal Finance in 1000 Words
Couponing for the Beginner: A Guide to Couponing for the Uninitiated

More FREE in Business & Money…
Children's eBooks
Tongue Twisters for Kids
UnEnchanted (An Unfortunate Fairy Tale Book 1)
The Imaginary Friend

More FREE in Children's eBooks…
Cookbooks, Food & Wine
Things Mother Used to Make A Collection of Old Time Recipes, Some Nearly One Hundred Years Old and Never Published Before
Just Desserts

More FREE in Cookbooks, Food, & Wine…
Crafts, Hobbies, Gardening & Home
The Working Chicken: Learn everything you need to know to become a backyard egg and meat producer in 30 minutes or less!
13 Free Baby Crochet Patterns
Granny Square Crochet for Beginners US Version

More FREE in Crafts, Hobbies, & Home…
Health and Beauty
4-Week Bodyweight Home Workout (Workout Series Book 1)
12 Health and Fitness Mistakes You Don't Know You're Making (The Build Muscle, Get Lean, and Stay Healthy Series)

More in Health, Fitness, & Dieting…
Mystery, Thriller & Suspense
Twenty-Eight and a Half Wishes (Rose Gardner Mystery, Book 1)
Promise You Won't Tell? (A Dani Ripper Novel Book 2)
JET
Castle Cay (Julie O'Hara Mystery Series Book 1)

More FREE in Mysteries & Thrillers…
Paranormal, Sci-fi, & Fantasy
The Ghost and The Graveyard (Knight Games Book 1)
The Haunted House: A True Ghost Story Being an account of the mysterious manifestations that have taken place in the presence of Esther Cox, the young … dominion as the great Amherst mystery
Tuesday's Child (Psychic Visions Book 1)

More FREE in Paranormal, SciFi, & Fantasy…
Parenting & Relationships
A New Pet in the Family
Releasing a Person: Fast Recovery from Heartbreak, a Breakup or Divorce (Love Attraction #1) (Love Attraction Series)
I Forgive You: Why You Should Always (The Path of Forgiveness Book 1)

More FREE in Parenting & Relationships…
Religious & Spiritual
Candle in the Darkness (Refiner's Fire, Book 1)
Awaken His Eyes: The Awakened Book One

More FREE in Religion & Spirituality…
Romance
Pride and Prejudice
Green Lake
Secrets of a Side Bitch

More FREE in Romance…

Remember, though, that you do not need a Kindle e-reader to be able to read this book. You can read it on your PC, iPhone, iPad
, Blackberry and Android. Just download for free the appropriate application to be able to do that. Amazon changes prices without notice, so make sure to check that the kindle price it is still $0.00 before you start downloading this book.