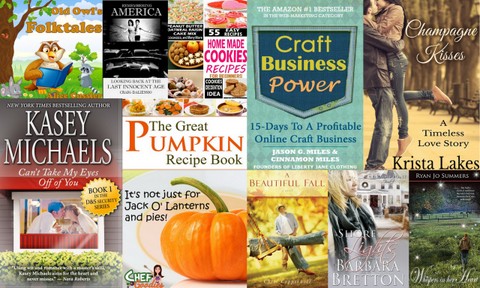 Every day Amazon offers a selection of Romance, Science Fiction, Fantasy and Teen titles at a discounted price.
Kindle Daily Deals – Each day they unveil new Kindle book deals for adults and young readers with prices usually ranging $1.99-$2.99. These are only discounted for today.

Kindle Monthly Deals – Each month they unveil a new collection of 100 Kindle books for $3.99 or less.
Thanks To Rose Knows Coupons here are some FREE kindle titles available for download at the moment:
Romance
Can't Take My Eyes Off Of You (A Contemporary Romance) (D&S Security Series)
Last-Minute Love (Year of the Chick series)
Champagne Kisses: A Timeless Love Story
Highland Shift (Highland Destiny: 1)
Shore Lights (Paradise Point NJ – Book 1)
River's Edge (Unlikely Gentlemen, Book 1)
Contemporary
Curtain Calls and Christmas Wishes (Typecast Christmas)
Almost a Family (a feel-good romance)
Historical
Leonardo the Florentine (The Life and Travels of Da Vinci)
Mayan Calendar Prophecies| Part 1: Predictions for 2012 and Beyond
All About India (This Is India)
Christian, Religious & Inspirational
Raising Ephesus: Christian Hope for a Post-Christian Age
The Book of Daniel (Closed Up and Sealed Until the Time of Fulfillment)
Young Adult
Resurrected (Part One) (Book #1 of the Vampire Legacy)
The Forever Contract (A Dystopian YA Novella)
Mystery, Suspense & Action
FLORIDA HEAT (Florida Heat Murder Mystery Series)
Paranormal, Fantasy & Science Fiction
Mistress of the Dancing Bones (Sang Noir)
Home, DIY, & Crafts
Priceless Christmas: Create a Joyous Holiday for Next to Nothing (Priceless Holidays)
Dogs: The Ultimate Dog Training Tips & Tricks eBook Guide – Dog Collar – Dog Training Accessories – Dog Training Aids – Dog Training Clicker – Dog Training Equipment – Crafts and Hobbies – Pets
Craft Business Power: 15 Days To A Profitable Online Craft Business
Children's
Dusty the Cat Burglar – Rhyming Children's Picture ebook (True Cat Stories for Children)
The Caterpillar that Could (A Beautifully Illustrated Children's Picture, Book Great for Bedtime Stories – Aged 3 – 8)
Bedtime Stories! Old Owl's Folktales and Fairy Tales for Children: Folklore and Legends about Animals (Bedtime Stories for Kids, Books for Early Readers and Early Learning for Ages 4-8)

Ravenspell Book 1: Of Mice and Magic (Ravenspell Series)
Biographies & Memoirs
Homemade Cookies Recipes: Secrets "55" Cookies for Chocolate Chip, Cake Mix Chocolate, Mexican Wedding, Shortbread, Gingerbread, Lemon, Fortune, Vegan, Apple, Red Velvet, Monster and Banana Recipes
Cider :The Ultimate Guide – Over 30 Delicious & Best Selling Recipes
Plant Based Diet: The Beginner's Guide to Losing Weight and Preventing Disease with the Plant Based Diet

Remember that you do not need a Kindle e-reader to be able to read this book. You can read it on your PC, iPhone, iPad
, Blackberry and Android. Just download for free the appropriate application to be able to do that. Amazon changes prices without notice, so make sure to check that the kindle price it is still $0.00 before you start downloading this book.