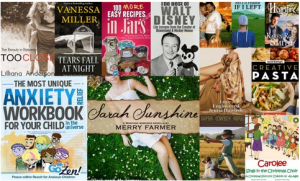 Every day Amazon offers a selection of Romance, Science Fiction, Fantasy and Teen titles at a discounted price.
Kindle Daily Deals – Each day they unveil new Kindle book deals for adults and young readers with prices usually ranging $1.99-$2.99. These are only discounted for today.

Kindle Monthly Deals – Each month they unveil a new collection of 100 Kindle books for $3.99 or less.
Thanks To Rose Knows Coupons here are some FREE kindle titles available for download at the moment:
Contemporary & Romance
Too Close: The Beauty in Between (A Beautiful Series Novella)
The Distant Shore (Stone Trilogy)
Sarah Sunshine: A Montana Romance Novella
Love Engineered (A Victorian Romance)
Heartfire (Search For Love series)
Maddie's Marine: A (Very) Short Story
Historical
A Piece of Blue String (Playing with Matches)
Christian, Religious & Inspirational
Tears Fall at Night – (Book 1 – Praise Him Anyhow Series)
Freedom From the Lies You Tell Yourself (Ebook Shorts)
"We're Just Friends" and Other Dating Lies: Practical Wisdom for Healthy Relationships
That's a Great Question: What to Say When Your Faith Is Questioned
Young Adult
Significance (A Significance Novel)
Mystery, Suspense & Action
The Dark Lake (The Oshkosh Trilogy)
Enemies Foreign And Domestic (The Enemies Trilogy)
Paranormal, Fantasy & Science Fiction
A Question of Will (The Aliomenti Saga – Book 1)
Dark Wine & Dark Blood (The Two Vampires, Books 1 & 2)
Cornerstone (Souls Of The Stones)
Home, DIY, & Crafts
99 Crochet Flowers: Awesome Flowers for Embellishing
50 Fitness Tips You Wish You Knew: The Best Quick And Easy Ways To Increase Motivation, Lose Weight, Get In Shape, And Stay Healthy
Children's
A Ghost Went Trick or Treating
Carolee Sings in the Christmas Choir – A Christmas Story for Children of All Ages (Carolee – Adventures of an Angel)
Emily and the Rainbow Umbrella (An Illustrated Children's Picture Book about Colors and Diversity)
The Most Unique Anxiety Relief Workbook for Your Child in the Universe
Biographies & Memoirs
The Truth About Butterflies: A Memoir
The Best of Walt Disney: Life Lessons from the Creator of Disneyland & Mickey Mouse (Walt Disney, Mickey Mouse, Disney Land)
Cookbooks
Good Eating's Best of the Best: Great Recipes of the Past Decade from the Chicago Tribune Test Kitchen
Muffin Tin Meals: Mouthwatering Recipes for Breakfast, Lunch & Dinner
Good Eating's Creative Pasta: Healthy and Unique Recipes for Meals, Sides, and Sauces

Remember that you do not need a Kindle e-reader to be able to read this book. You can read it on your PC, iPhone, iPad
, Blackberry and Android. Just download for free the appropriate application to be able to do that. Amazon changes prices without notice, so make sure to check that the kindle price it is still $0.00 before you start downloading this book.