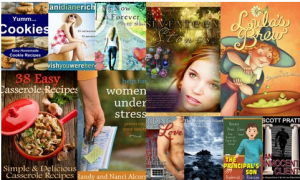 Every day Amazon offers a selection of Romance, Science Fiction, Fantasy and Teen titles at a discounted price.
Kindle Daily Deals – Each day they unveil new Kindle book deals for adults and young readers with prices usually ranging $1.99-$2.99. These are only discounted for today.

Kindle Monthly Deals – Each month they unveil a new collection of 100 Kindle books for $3.99 or less.
Thanks To Rose Knows Coupons here are some FREE kindle titles available for download at the moment:
Contemporary & Romance 
The Other Sister (Sister Series, #1)
My Now & Forever (My Way Series)
Riding for Love (A Western Romance)
A Rare Vintage (Wine Country Romance)
Winter's Touch (Immortal Touch Series)
Historical
Queen Victoria: A Very Brief History
Shadow of the Sun (The Shadow Saga)
Christian, Religious & Inspirational
Guardian (The Fallen Chronicles)
How to Be Motivated: A Blueprint for Increasing Your Motivation (The Personal Transformation Project: Part 1 How to Feel Awesome!)
Faylene's Biggest Catch (Faylene in High Plains)
Young Adult
First Kiss (Heavy Influence #1)
Mystery, Suspense & Action
Tendrils of Life: A story of love, loss, and survival in the turmoil of the Korean War
An Innocent Client (Joe Dillard Series No. 1)
Paranormal, Fantasy & Science Fiction
The Crystal Ordeal (Legends of Leone)
The Mysterious Island (Illustrated Classics)
Home, DIY, & Crafts
Beginner Soap Making: Simple Homemade Recipes
Christmas Ideas: Simplify your holiday season, create a stress free Christmas with simple Christmas planning tips and ideas (A Christmas Ideas Book)
12 Halloween Crafts to Crochet: DIY Home Decor, Halloween Costume Ideas, and More
Enjoy Your Money!: How to Make It, Save It, Invest It and Give It
Children's
My First Big Alphabet Book: Animals, Fruits and Vegetables from A-Z (Beginner Series: Book 2)
Let's Talk About Feeling Defeated (Let's Talk About)
The Principal's Son (a chapter book for kids age 8-10)
Extreme Weather! Learn Fun Facts About Storms and Natural Disasters: Such as Earthquakes, Floods, Tsunamis, Volcanoes & Much More in this Weather Book for Kids! (Kid's Nature Books Series)
Biographies & Memoirs
Haunted Estill County (Haunted Kentucky)
The Queen's Escape, memoirs of a Lightworker (Book 1 of The Queen's Trilogy)
Cookbooks
Yumm…Cookies: Easy Homemade Cookie Recipes. Simply Delicious Brownies, Chocolate Chip Cookies, Sugar Cookies. (Simply Delicious Cookbooks)
Cupcakes! 12 Months of Happiness
Crepes – the "all-you-need-to-know" complete guide to making crepes
38 Easy Casserole Recipes – Simple & Delicious Casserole Recipes

Remember that you do not need a Kindle e-reader to be able to read this book. You can read it on your PC, iPhone, iPad
, Blackberry and Android. Just download for free the appropriate application to be able to do that. Amazon changes prices without notice, so make sure to check that the kindle price it is still $0.00 before you start downloading this book.