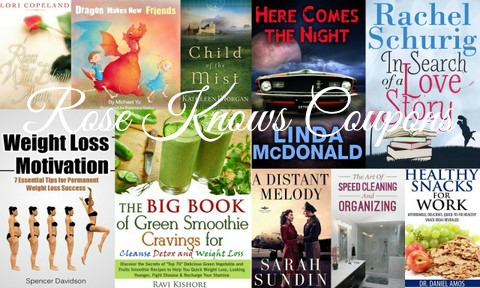 Every day Amazon offers a selection of Romance, Science Fiction, Fantasy and Teen titles at a discounted price. Kindle Daily Deals – Each day they unveil new Kindle book deals for adults and young readers with prices usually ranging $1.99-$2.99. These are only discounted for today.

Kindle Monthly Deals – Each month they unveil a new collection of 100 Kindle books for $3.99 or less. This list of free Kindle eBooks was created by Rose Knows Coupons. A big thanks to her for creating this list every weekday!
Contemporary and Romance
A Distant Melody (Wings of Glory Book #1): A Novel
Deadly Dancing (Mars Cannon Novels)
Worse Things Happen At Sea: A Very Funny Romantic Comedy
The Eternal Intern (Contemporary Romantic Comedy)
Tame A Summer Heart (Tame Series)
Lost Love (The Lost Series #1)
In Search of a Love Story (Love Story Book One )
Historical
Taken: How Friendship Saved a Man From Slavery
A Murder Close to Home (An Eve Duncan Murder Mystery)
Crusader: The Search for Jerusalem
Christian, Religious & Inspirational
Pilgrims of the Alley: Living Out Faith in Displacement
Child of the Mist (These Highland Hills Book #1)
Young Adult
CLOCKWISE (book one in the Clockwise series)
Heaven High (The East Lake Series Book 1)
The Light Tamer (The Light Tamer Trilogy)
Mystery, Suspense & Action
The Flu (A Novel of the Outbreak)
Paranormal, Fantasy & Science Fiction
Ravenous (Horde Wars, Book One)
Iron Bloom (Legend of the Iron Flower Book One)
Self-Help
The Art Of Speed Cleaning And Organizing: How To Organize, Clean, And Keep Your House Spotless
Life Lived Simply: Meditation, Spirituality, and Conscious Living
Weight Loss Motivation: 7 Essential Tips for Permanent Weight Loss Success (weight loss, weight loss motivation, permanent weight loss, weight loss success, weight loss for women)
The POWER Plan – Master The Law of Attraction in Six Simple Steps (The POWER Plan – 90 Day Life Coaching Program)
Children's
Dragon Makes New FRIENDS ( A Gorgeous Illustrated Children's Picture Book for Ages 2-10 )
Little Marvin Monster – Makes a Mess (Rhyming Children's Books for Beginners)
The Magical Dollhouse of Gabriella Rose: A Picture Story Book for Children Ages 3-8
Biographies & Memoirs
Black Market Baby: An Adopted Woman's Journey
RAMPAGE Spree Killers and Mass Murderers
Cookbooks
The Big Book of Green Smoothie Cravings for Cleanse, Detox and Weight Loss: Discover the Secrets of "Top 70" Green Vegetables and Fruits Smoothie Recipes for Quick Weight Loss & Fight Diseases
Healthy Snacks For Work: Affordable, Delicious, Quick-To-Fix Healthy Snacks Ideas Revealed [healthy snack ideas, work, healthy lunch, break, health, health foods, vitamins]
Remember, a Kindle is not required to read these books! You can get a FREE Kindle app for your iPod/iPhone, PC, MAC, Blackberry, Windows Phone 7, Android, iPad, and Android tablet!

Remember, though, that you do not need a Kindle e-reader to be able to read this book. You can read it on your PC, iPhone, iPad
, Blackberry and Android. Just download for free the appropriate application to be able to do that. Amazon changes prices without notice, so make sure to check that the kindle price it is still $0.00 before you start downloading this book.
As always, thanks, Rose Knows Coupons!