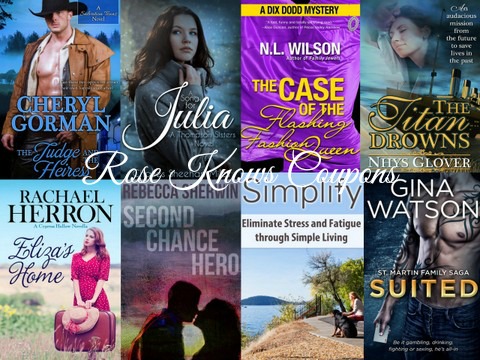 Every day Amazon offers a selection of Romance, Science Fiction, Fantasy and Teen titles at a discounted price. Kindle Daily Deals – Each day they unveil new Kindle book deals for adults and young readers with prices usually ranging $1.99-$2.99. These are only discounted for today.

Kindle Monthly Deals – Each month they unveil a new collection of 100 Kindle books for $3.99 or less. This list of free Kindle eBooks was created by Rose Knows Coupons. A big thanks to her for creating this list every weekday!
 Contemporary and Romance (includes Paranormal)
Suited (St. Martin Family Saga)
A Song for Julia (Thompson Sisters)
The Way of Grace (Miller's Creek Novels)
Coyote in Provence (Coyote Series)
Magic Academy (A Fantasy New Adult Romance)
The Judge And The Heiress (A Salvation Texas Novel)
Eliza's Home: A Cypress Hollow Novella
High Witch (High Witch Book 1)
Bedding The Bad Boy (Dalton Brothers Novels)
Forbidden Call (New Breed Novels, Book 1)
What Lies Inside (A Blood Bound Novel, Book 1)
License to Love: Box Set (Contemporary Romance)
Parched (Parched Series, A Vampire Romance, #1)
Down the Rabbit Hole (River's Recruit Prequel Book .5) (The Sanctuary Series)
Historical
Across the China Sky (Daughter of China Series)
Up from Slavery: an autobiography
Christian, Religious & Inspirational
Speaking of Jesus: The Art of Not-Evangelism
One With All of Thee: Growing Your Sacred Connection
Young Adult
His Dark Empire (Tears of Blood, Book One)
THREE DAYS to DIE (Aaron Quinn thriller series, No. 1)
Seeing Red (Brenna Rutherford Mysteries)
Mystery, Suspense & Action
Girl Jacked (A Jack Stratton Mystery)
The Case of the Flashing Fashion Queen: A Dix Dodd Mystery (Dix Dodd Mysteries)
Sense Memory (A Benjamin Cady Novel)
Paranormal, Fantasy & Science Fiction
The Change: Episode One (The Bachelor Battles)
Waking Up Dead (The Western Werewolf Legend #2)
Self-Help
Simplify: Eliminate Stress and Fatigue through Simple Living (10 Essential Keys to Simplifying Your Life)
Children's
The Magical Christmas Reindeer: A Story of Love, Faith & Friendship
Brianna the Ballet Fairy (KiteReaders Fairy Series)
Biographies & Memoirs
Incidents in the Life of a Slave Girl Written by Herself
Cookbooks
Can, Preserve, Survive: The Prepper's Guide To Canning, Preserving, and Food And Water Storage
Everyday Vegetarian Family Cookbook: 100 Delicious Meatless Breakfast, Lunch and Dinner Recipes you Can Make in Minutes! (Healthy Cookbook Series)
Cake Ball Recipes: The Ultimate Collection – Over 30 Delicious & Best Selling Recipes

Remember, though, that you do not need a Kindle e-reader to be able to read this book. You can read it on your PC, iPhone, iPad
, Blackberry and Android. Just download for free the appropriate application to be able to do that. Amazon changes prices without notice, so make sure to check that the kindle price it is still $0.00 before you start downloading this book.
As always, thanks, Rose Knows Coupons!