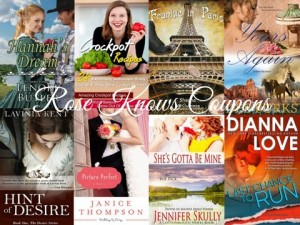 Every day Amazon offers a selection of Romance, Science Fiction, Fantasy and Teen titles at a discounted price. Kindle Daily Deals – Each day they unveil new Kindle book deals for adults and young readers with prices usually ranging $1.99-$2.99. These are only discounted for today.

Kindle Monthly Deals – Each month they unveil a new collection of 100 Kindle books for $3.99 or less. This list of free Kindle eBooks was created by Rose Knows Coupons. A big thanks to her for creating this list every weekday!  
Contemporary and Romance
She's Gotta Be Mine (A sexy, funny mystery/romance, Cottonmouth Book 1) (Cottonmouth Series)
Picture Perfect (Weddings by Design Book #1): A Novel
BirthRight (La Patron, the Alpha's Alpha)
Sweet Masterpiece: The First Samantha Sweet Mystery (The Samantha Sweet Mysteries)
Last Chance To Run (Slye Temp)
Yours Again (River City Series)
Close Quarters: The Forbidden Billionaire (Part One)
Hint of Desire (The Desire Series)
The MacKinnon's Bride (The Highland Brides, Book 1)
Anything For You: A Coming Home Short Story
Historical
Ronald Reagan: A Very Brief History
The Cuban Missile Crisis: A Very Brief History
Christian, Religious & Inspirational
Principles for the Gathering of Believers Under the Headship of Jesus Christ
Hidden Falls: Ordinary Secrets – Episode 1
Perfect Fit: Weekly Wisdom and Workouts for Women of Faith and Fitness
Buddha in Blue Jeans: An Extremely Short Zen Guide to Sitting Quietly and Being Buddha
Young Adult
Mystery, Suspense & Action
Tropical Knights (Jack Steven's Adventures)
Paranormal, Fantasy & Science Fiction
2020: Season 1 (The Thrilling Post-Apocalyptic Series)
The Foundlings: Book One of the Urban Fantasy Paranormal Vampire Series, The Foundlings
Dance in Shadow and Whisper (The Marionettes of Myth)
Self-Help
Getting Rid of It: The Step-by-step Guide for Eliminating the Clutter in Your Life
Creating YOUR Plan for Weight Loss Success (How to Lose 100 Pounds)
AFGEs: A Guide to Self-Awareness and Change
self help book: Influence and Lead ! Fundamentals for Personal and Professional Growth (Personal Growth)(The Leadership Series)
Children's
Jesus Loves Me This I Know (A Bible Based Children's Picture eBook)
Children's Book: JACK AND THE DRAGON (A Gorgeous Illustrated Bedtime Story Children's Picture Book for Ages 2-10)
Children's book: The Murky Shadow and the Special Gift (How to Parent Library Collection)
Biographies & Memoirs
Cookbooks
30 Healthy Desserts You Can Eat Every Day
Dessert Skewers: The Ultimate Recipe Guide – Over 30 Delicious Recipes
Crockpot Recipes: 24 Extremely Delicious, Easy, Cheap, Family Slow Cooker Dinners-Amazing Crockpot Recipes You Won't Believe Came Out Of A Slow Cooker … Slow Cooker Recipes, Crock Pot Recipes,)

Remember, though, that you do not need a Kindle e-reader to be able to read this book. You can read it on your PC, iPhone, iPad
, Blackberry and Android. Just download for free the appropriate application to be able to do that. Amazon changes prices without notice, so make sure to check that the kindle price it is still $0.00 before you start downloading this book.
As always, thanks, Rose Knows Coupons!