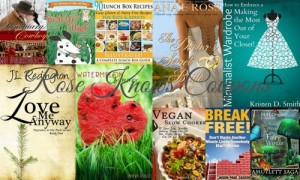 Every day Amazon offers a selection of Romance, Science Fiction, Fantasy and Teen titles at a discounted price. Kindle Daily Deals – Each day they unveil new Kindle book deals for adults and young readers with prices usually ranging $1.99-$2.99. These are only discounted for today.

Kindle Monthly Deals – Each month they unveil a new collection of 100 Kindle books for $3.99 or less. This list of free Kindle eBooks was created by Rose Knows Coupons. A big thanks to her for creating this list every weekday!
Contemporary and Romance
Love Me Anyway (Passions in the Park)
The Doctor's Secret Bride – Book One (Billionaire Brides of Granite Falls)
Sanctuary with the Cowboy (A Christmas Novella)
Gift of Desire (Hot Christmas Love Stories from Samantha Kane and Kate Pearce)
Historical
A Good German: Adam Von Trott Zu Solz
Christian, Religious & Inspirational
What Are You Afraid Of?: Facing Down Your Fears with Faith
Young Adult
Mystery, Suspense & Action
Dark Blonde (A Mike Angel Mystery)
PRETTY GIRLS MAKE GRAVES (crime thriller books)
Paranormal, Fantasy & Science Fiction
Gone With The Fairy Winds (The Amuylett Saga)
Self-Help
How to Embrace a Minimalist Wardrobe – Making the Most Out of Your Closet!
BREAK FREE! Don't Waste Another Minute Living Somebody Else's Dream
Children's
The Biscuit Thief (The Adventures of Olive and Penny)
Jasper's Bedtime Dream – How A Dinosaur Handles A Bully (Jasper The Dinosaur)
"Mushy! Fishy! Soupy!" (Kids bedtime stories for ages 3-5) ("The Old Ugly Cup Kitchen Tales")
Biographies & Memoirs
JFK Assassination: Executive Order 11110 – Did The Fed Kill JFK?
Cookbooks
Vegetable Soups: Healthy, Easy and Nutritious Home Made Vegetable Soup Recipes (Simply Delicious Cookbooks)
Vegan Slow Cooker: 99 Super Easy, Incredibly Delicious Vegan One-Pot Slow Cooker Recipes You Can Set and Forget
Lunch Box Recipes: Healthy Lunchbox Recipes for Kids. A Common Sense Guide & Gluten Free Paleo Lunch Box Cookbook for School & Work (Paleo Recipes: Paleo … Lunch, Dinner & Desserts Recipe Book)

Remember, though, that you do not need a Kindle e-reader to be able to read this book. You can read it on your PC, iPhone, iPad
, Blackberry and Android. Just download for free the appropriate application to be able to do that. Amazon changes prices without notice, so make sure to check that the kindle price it is still $0.00 before you start downloading this book.
As always, thanks, Rose Knows Coupons!