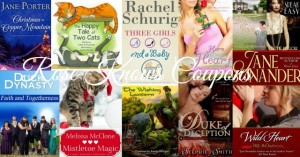 Every day Amazon offers a selection of Romance, Science Fiction, Fantasy and Teen titles at a discounted price. Kindle Daily Deals – Each day they unveil new Kindle book deals for adults and young readers with prices usually ranging $1.99-$2.99. These are only discounted for today.

Kindle Monthly Deals – Each month they unveil a new collection of 100 Kindle books for $3.99 or less. This list of free Kindle eBooks was created by Rose Knows Coupons. A big thanks to her for creating this list every weekday!
Contemporary and Romance
Christmas At Copper Mountain (A Copper Mountain Christmas)
Picture Me Naked (Stoddard Art School Series)
Mistletoe Magic (A Copper Mountain Christmas)
Duke Of Deception (Wentworth Trilogy)
Violet Lust: The Vampire's Attraction (Part One)
Historical
Children To A Degree – Growing Up Under the Third Reich
Christian, Religious & Inspirational
Threads: One Family's Unlikely Adventure in Business, Mission and Church Planting
Her Minnesota Man (A Christian Romance Novel)
Duck Dynasty: Faith and Togetherness
Young Adult
Sign of the Throne (The Solas Beir Trilogy)
Seeds of Discovery (Dusk Gate Chronicles – Book One)
Mystery, Suspense & Action
The Smell of Leather (The Case Files of Edgar Sullivan SERIES 1/CASE 1)
Paranormal, Fantasy & Science Fiction
The Druid Series, Volumes 1-3: Reapers, Bled and Harvest
Anathema (Causal Enchantment, #1)
Highland Shift (Highland Destiny: 1)
Growl (The Lacey Hannigan Series)
Home, DIY, & Crafts
Children's
Biographies & Memoirs
Chapter 29 Revisited: The amazing true story of what happens when a typical American housewife meets Jesus!
Cookbooks
Top 30 Easy Vegetarian Slow Cooker Recipes for Busy Women: Set It and Forget It (First Vegetarian Recipes Cookbook for Busy Women)
30 Gourmet Cookie Recipes – The Cookie Baking Cookbook That Enables You To Bake Like A Gourmet Dessert Chef!
50 Recipes For Amazing Christmas Desserts – The Best Christmas Dessert Recipe Book (The Ultimate Christmas Recipes and Recipes For Christmas Collection)
Betty Crocker 20 Best Cookie Contest Recipes

Remember, though, that you do not need a Kindle e-reader to be able to read this book. You can read it on your PC, iPhone, iPad
, Blackberry and Android. Just download for free the appropriate application to be able to do that. Amazon changes prices without notice, so make sure to check that the kindle price it is still $0.00 before you start downloading this book.
As always, thanks, Rose Knows Coupons!