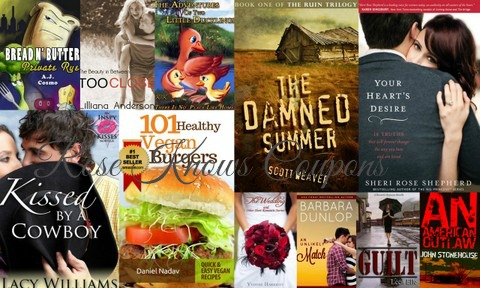 Every day Amazon offers a selection of Romance, Science Fiction, Fantasy and Teen titles at a discounted price. Kindle Daily Deals – Each day they unveil new Kindle book deals for adults and young readers with prices usually ranging $1.99-$2.99. These are only discounted for today.

Kindle Monthly Deals – Each month they unveil a new collection of 100 Kindle books for $3.99 or less. This list of free Kindle eBooks was created by Rose Knows Coupons. A big thanks to her for creating this list every weekday!
Romance
Kissed by a Cowboy: an Inspy Kisses novella
The Wedding and Other Short Romantic Stories
The Naughty Never Die (Book Two of The Seduction Series)
An Unlikely Match (The Match Series)
Sweet Delicious Madness and the Many Mysterious Deaths of Silvio Berlusconi (A Kissed in Italy Mystery)
Playing for Love at Deep Haven (Enchanted Places)
Contemporary
TOWARD A NEW BEGINNING (Arkansas Valley #1)
Paranormal Romance
A Perpetual Mimicry: A Novella
Rockstar Ghost (Rockstar Ghost Saga)

Christian, Religious, and Inspirational
Your Heart's Desire: 14 Truths That Will Forever Change the Way You Love and Are Loved
I Survived!: 5 Bible Characters Who Survived Disasters
Is Sunday School Destroying Our Kids?: How Moralism Suffocates Grace
Young Adult

St. Charles at Dusk: The House of Crimson and Clover Series Prequel

Too Close: The Beauty in Between (A Beautiful Series Novella)
Mystery, Suspense, and Action
The iCandidate (The Michael Bennit Series)
Sleepy P.I. (The Sandy Mantle Series)
The Killing Of Emma Gross: A Detective Novel About A True Crime In The Weimar Republic
Paranormal, Fantasy, and Science Fiction
The Key to Erebus (Les Corbeaux: The French Vampire Legend)
The Rose of Provence (Amrita Collection)
The Damned Summer (The Ruin Trilogy)
Self-Help and DIY
Fun Loving You: Enjoying Your Marriage in the Midst of the Grind
Secrets of a Working Dog: Unleash Your Potential and Create Success
10 Minute Time Management: The Productive Persons Stress-Free Guide to Getting Things Done
Liberation – How to tame negative thoughts
Children's
Sight Words: Pet Puppies (An "I Love Reading" Cute Puppy Sight Word Book)
The Monkey King (Ancient Fantasy)
The Adventures Of Two Little Ducklings – "There Is No Place Like Home" (book I)
Biographies and Memoirs
Lost Love Letters: An Indie Chicks Anthology
Cookbooks
Cookbook: 101 healthy Vegan Burgers Recipes (Quick & Easy Grilled, Fried, Baked Vegan Recipes Books)
Best Breakfast & Morning Recipes: 31 Delicious & Mouthwatering Breakfast & Morning Recipes
30 Gluten Free Desserts – Amazing Gluten Free Dessert Recipes (Gluten Free Cookbook – The Gluten Free Recipes Collection)
Cookin' with the Hopkins: Growing Up In The Seventies
Remember, a Kindle is not required to read these books! You can get a FREE Kindle app for your iPod/iPhone, PC, MAC, Blackberry, Windows Phone 7, Android, iPad, and Android tablet

Remember, though, that you do not need a Kindle e-reader to be able to read this book. You can read it on your PC, iPhone, iPad
, Blackberry and Android. Just download for free the appropriate application to be able to do that. Amazon changes prices without notice, so make sure to check that the kindle price it is still $0.00 before you start downloading this book.
As always, thanks, Rose Knows Coupons!