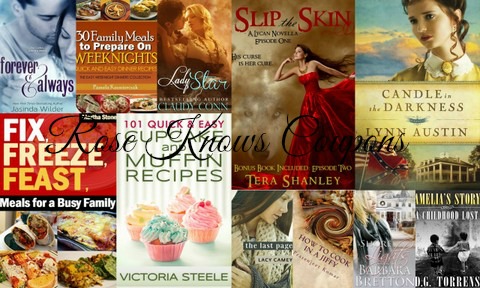 Every day Amazon offers a selection of Romance, Science Fiction, Fantasy and Teen titles at a discounted price. Kindle Daily Deals – Each day they unveil new Kindle book deals for adults and young readers with prices usually ranging $1.99-$2.99. These are only discounted for today.

Kindle Monthly Deals – Each month they unveil a new collection of 100 Kindle books for $3.99 or less. This list of free Kindle eBooks was created by Rose Knows Coupons. A big thanks to her for creating this list every weekday!
Paranormal Romance
Slip the Skin: A Lycan Novella, Episode One
With the Headmaster's Approval (contemporary romance)
The Shadow Master's Miss (The Shadow Masters series Book 1)
Remembered (The Vistira Trilogy: Book 1)
Releasing the Dragon (Myths and Legends)
Christian, Religious, & Inspirational
More or Less: Choosing a Lifestyle of Excessive Generosity
Liar Liar: Is Your Life Based on the Lies You Believe?
Candle in the Darkness (Refiner's Fire Book #1) (Refiner's Fire)
Confessions of a Transformed Heart – Youth Edition – An Interactive eBook with Discussion Questions
Amish Snowflakes: Volume One: Winter Letters
Young Adult
Pale Stranger, New Adult Romance (PALE Series)

The Last Page (YA & New Adult Romantic Comedy) (Living, Loving and Laughing Again)
Where Love Finds You (The Unspoken Series)
Project ELE (ELE Series #1) (The ELE Series)
Mystery, Suspense, & Action
American Crow (The Missing Series)

Obliterated: Would you know how to survive?
Murder Island: A Thriller Novel
The Prophet Motive: A Cult Thriller
Paranormal, Fantasy, & Sci-Fi
The Rise of Planet Rubicon – Part One

A Question of Will (The Aliomenti Saga – Book 1)
Self-Help & DIY
How to be a Totally Awesome Spouse (How to be Totally Awesome)

The Ultimate Guide to Staring Your Own Business: The Beginning (Starting up a Business)
The Starting Pain: The complete guide to overcoming procrastination in under 15 minutes
Children's
Peek-A-Boo Jungle: A Fun Animal Guessing Book For Little Ones
Rise of the Fallen (Andrew and the Quest of Orion's Belt)
Bex Carter 1: Aunt Jeanie's Revenge (The Bex Carter Series)
Biographies & Memoirs
The Life-Changing Lessons Of Dale Carnegie – How To Be Successful In The Workplace And Beyond (Self Help, Self Improvement)
Cookbooks
Prepper's Pantry: A Survival Food Guide

Fix, Freeze, Feast: Meals for a Busy Family
30 Family Meals To Prepare On Weeknights (Quick and Easy Dinner Recipes – The Easy Weeknight Dinners Collection)
Taste of Happiness – Homemade Ice Cream
101 Quick & Easy Cupcake and Muffin Recipes
How To Cook In A Jiffy Even If You Have Never Boiled An Egg Before (How To Cook Everything In A Jiffy)
Green Smoothies: Deliciously Quick Recipes for Weight Loss, Detox, Energy and Glowing Skin
Remember, a Kindle is not required to read these books! You can get a FREE Kindle app for your iPod/iPhone, PC, MAC, Blackberry, Windows Phone 7, Android, iPad, and Android tablet

Remember, though, that you do not need a Kindle e-reader to be able to read this book. You can read it on your PC, iPhone, iPad
, Blackberry and Android. Just download for free the appropriate application to be able to do that. Amazon changes prices without notice, so make sure to check that the kindle price it is still $0.00 before you start downloading this book.
As always, thanks, Rose Knows Coupons!