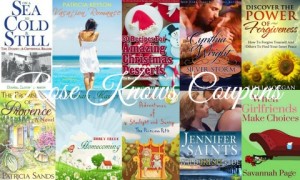 Every day Amazon offers a selection of Romance, Science Fiction, Fantasy and Teen titles at a discounted price. Kindle Daily Deals – Each day they unveil new Kindle book deals for adults and young readers with prices usually ranging $1.99-$2.99. These are only discounted for today.

Kindle Monthly Deals – Each month they unveil a new collection of 100 Kindle books for $3.99 or less. This list of free Kindle eBooks was created by Rose Knows Coupons. A big thanks to her for creating this list every weekday!
Contemporary and Romance
Wild Irish Ride: A Southern Steam Novel (Book 1 of the Weldon Brothers Series)
VACATION ROMANCE (romance books)
Silver Storm (The Raveneau Novels, Book 1)
Little Miss Straight Lace, Book One of The Unbreakable Series (Romantic Suspense Books)
The Guys Are Props Club (The G.A.P. Series)
Love, Greater Than Infinity (Book 1: Urban Fantasy Romance)
Historical
What Egyptologists don't want you to see! HD Color (An adventure in photojournalism, Volume 1, Part 1)
On a Sea So Cold & Still: The Titanic-A Centennial Reader
Christian, Religious & Inspirational
Discover The Power Of Forgiveness: How To Forgive Yourself And Others To Find Your Inner Peace (Forgiveness, Self-Help, Meditation)
Dear Santa…… A CHRISTMAS STORY
Brilliant book of calm (52 Brilliant Ideas)
Young Adult
A Stairway To Danger (A Shakertown Adventure)
The Dark Genesis of Daniel James
Mystery, Suspense & Action
A Cold Day for Murder (Kate Shugak #1)
The Edge of Life: A Short Horror Story
Paranormal, Fantasy & Science Fiction
Privy to Murder (a Tali Cates Paranormal Mystery)
Waiting For You (Ghosts / Time-Travel romance)
The Hunted of 2060, a Shifter Dystopia (Shifter Evolutions Book #5)
Home, DIY, & Crafts
Christmas Wreath Making: Pictures and instructions
Children's
The Adventures of Starlight and Sunny
Granted (The Wish Giver Trilogy)
The Adventures of Starlight and Sunny, Book 1, "The Princess Path", How to be True with Good Deeds; a Fun, Morally Conscious Picture Book for girls
Biographies & Memoirs
The Well Ran Dry: Memoirs of A Motherless Child
Cookbooks
Christmas Dessert Recipes: Simple Delicious Recipe Cook Book With 3 Main Ingredients Chocolate Cakes Cookies Pops and More…. (Cooking With Jane)
THE AMAZING POWERS OF CINNAMON!: Discover The Hidden And Little Known Health Benefits Of This Incredible Super Spice! Plus Easy To Make "Drinking Your Cinnamon" Recipes! (The Kitchen Cupboard Series)
50 Recipes For Amazing Christmas Desserts – The Best Christmas Dessert Recipe Book (The Ultimate Christmas Recipes and Recipes For Christmas Collection)

Remember, though, that you do not need a Kindle e-reader to be able to read this book. You can read it on your PC, iPhone, iPad
, Blackberry and Android. Just download for free the appropriate application to be able to do that. Amazon changes prices without notice, so make sure to check that the kindle price it is still $0.00 before you start downloading this book.
As always, thanks, Rose Knows Coupons!