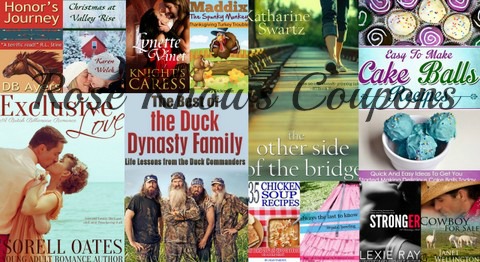 Every day Amazon offers a selection of Romance, Science Fiction, Fantasy and Teen titles at a discounted price. Kindle Daily Deals – Each day they unveil new Kindle book deals for adults and young readers with prices usually ranging $1.99-$2.99. These are only discounted for today.

Kindle Monthly Deals – Each month they unveil a new collection of 100 Kindle books for $3.99 or less. This list of free Kindle eBooks was created by Rose Knows Coupons. A big thanks to her for creating this list every weekday!

Romance & Contemporary
COWBOY FOR SALE–A Second-Chances Spicy Romance
Negotiation Tactics (Sutton Capital Series Contemporary Romance)
Fireblossom (The Western Novels)
Christmas at Valley Rise (Miracle at Valley Rise)
Exclusive Love (British Billionaires Series)
Always the Last to Know (Always the Bridesmaid) (LOVED THIS BOOK!)
Historical
Passport through Darkness: A True Story of Danger and Second Chances
Fashions in the Era of Jane Austen
Escape – True Accounts of POW Escapes
Christian, Religious & Inspirational
The Rocking Horse of Tuscumbia
Whoopie Pie Secrets (The Whoopie Pie Juggler: An Amish of Lancaster County Saga series)
Young Adult
Sworn (Book #1 of the Vampire Legends)
The First Book of Demons (The Book of Demons Saga)
Mystery, Suspense & Action
Mystral Murder (Julie O'Hara Mystery Series)
No Time To Run (Legal Thriller Featuring Michael Collins, Book 1)
Scraps of Paper-Revised Author's Edition
Paranormal, Fantasy & Science Fiction
The Stone Man – A Science Fiction Horror Novel
Haven: A Stranger Magic (Epic fantasy, Fantasy and Science fiction, Paranormal Mystery, Paranormal Fantasy, Short Stories Series)
Children's
The Mystery of Adventure Island (The Mystery Series, Book 2)
Honor's Journey (Living Then Books)
Thanksgiving Kids Book: Maddix The Spunky Monkey's Thanksgiving Turkey Trouble (Children's Picture Book)
Lexi Fairheart and the Forbidden Door (An Illustrated Children's Picture Book for Ages 3-6 Years Old)
Biographies & Memoirs
The Best of the Duck Dynasty Family: Life Lessons from the Duck Commanders (Duck Commander Family, Happy happy happy, Duck Dynasty, Robertson Family, Money God Ducks, American Values)
Cookbooks
Homemade Icing :The Ultimate Recipe Guide
35 Chicken Soup Recipes: Cozy Chicken Soups And Stews For Your Soul On A Cold Night
Easy To Make Cake Balls Recipes: Quick And Easy Ideas To Get You Started Making Delicious Cake Balls Today
Kiki Lowenstein and the Cupcake Caper
The Best Diabetic Holiday Cookbook

Remember, though, that you do not need a Kindle e-reader to be able to read this book. You can read it on your PC, iPhone, iPad
, Blackberry and Android. Just download for free the appropriate application to be able to do that. Amazon changes prices without notice, so make sure to check that the kindle price it is still $0.00 before you start downloading this book.
As always, thanks, Rose Knows Coupons!