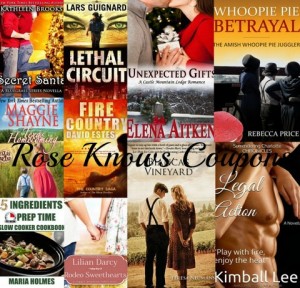 Every day Amazon offers a selection of Romance, Science Fiction, Fantasy and Teen titles at a discounted price. Kindle Daily Deals – Each day they unveil new Kindle book deals for adults and young readers with prices usually ranging $1.99-$2.99. These are only discounted for today.

Kindle Monthly Deals – Each month they unveil a new collection of 100 Kindle books for $3.99 or less. This list of free Kindle eBooks was created by Rose Knows Coupons. A big thanks to her for creating this list every weekday!
Contemporary & Romance
Texas Homecoming (Texas Brand Series Bonus Books)
Father Found (The Daddy School)
Meeting Mr Write (Mr Write Trilogy)
Me and My Ghoulfriends (Larue Donavan, Book 1)
Unexpected Gifts (A Castle Mountain Lodge Romance)
Legal Action (Surrendering Charlotte Chronicles)
Secret Santa, A Bluegrass Series Novella
Historical
Worlds Torn Asunder – A Holocaust Survivor's Memoir of Hope and Resilience
Christian, Religious & Inspirational
Whoopie Pie Betrayal – Book 2 (The Whoopie Pie Juggler: An Amish of Lancaster County Saga series)
Christmas at Pebble Creek (Free Short Story) (The Pebble Creek Amish)
Doesn't She Look Natural? (The Fairlawn Series)
A Christmas Jar for Santa – A Christmas Jars Story
Young Adult
Fire Country (The Country Saga)
How I Became A Teenage Survivalist
Mystery, Suspense & Action
Lethal Circuit: Spy Action Adventure for Mystery Thriller Fans #1: Volume 1 (Circuit Series)
Scherzo: Murder and Mystery in 18th Century Venice
Paranormal, Fantasy & Science Fiction
£6.19 per Witching Hour (Paranormal Personnel Saga #1)
Tempered Steel (Dystopia Trilogy)
Children's
Adventures in Cutie Patootie Land and The Pizza Party
Animals Give Kisses Too. Messages of Love and Friendship for Children. (Animals With a Message)
Henry Burp – Mind Your Manners
Globaloonies 1: The Big Red Button
Biographies & Memoirs
Cookbooks
20 Easy Slow Cooker Christmas Appetizer Recipes: Holiday Cooking For Your Gathering
5 Ingredients 15 Minutes Prep Time Slow Cooker Cookbook: Quick & Easy Set It & Forget It Recipes
Swine & Dine: Recipes for Bringing Pork to Any Occasion

Remember, though, that you do not need a Kindle e-reader to be able to read this book. You can read it on your PC, iPhone, iPad
, Blackberry and Android. Just download for free the appropriate application to be able to do that. Amazon changes prices without notice, so make sure to check that the kindle price it is still $0.00 before you start downloading this book.
As always, thanks, Rose Knows Coupons!