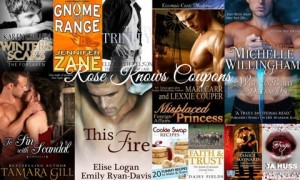 Every day Amazon offers a selection of Romance, Science Fiction, Fantasy and Teen titles at a discounted price. Kindle Daily Deals – Each day they unveil new Kindle book deals for adults and young readers with prices usually ranging $1.99-$2.99. These are only discounted for today.

Kindle Monthly Deals – Each month they unveil a new collection of 100 Kindle books for $3.99 or less. This list of free Kindle eBooks was created by Rose Knows Coupons. A big thanks to her for creating this list every weekday!
Contemporary &  Romance 
Chasing Beautiful (Chasing Series #1)
The Edge of Courage (Red Team)
Misplaced Princess (Foreign Affairs, Book One)
The Maid's Daughter (Harlequin Desire) (Pre-Order)
This Fire (Contemporary Romance)
More Than Blood (Arcane Crossbreeds)
Trinity (The Executive's Affair)
Historical
Sir Thomas 'British Tommy' Armstrong and The War Between the States
John F. Kennedy's Inaugural Address
Christian, Religious & Inspirational
Faith and Trust in Lancaster (The Amish of Lancaster County #2)
Freedom Fighter: One Man's Fight for One Free World
Young Adult
Bastial Energy (The Rhythm of Rivalry: Book 1)
Always and Forever (Secrets of Shadow Hill)
Winter's Scars: The Forsaken (Winter's Saga 5)
Mystery, Suspense & Action
The Gauguin Connection (Genevieve Lenard)
Green to Go (Buck Reilly Adventure Series)
The Turtle Boy (The Timmy Quinn Series (Book One))
Paranormal, Fantasy & Science Fiction
The House in the Old Wood (The Day Magic Died)
The Settlers (The Movement Trilogy)
The Colonists (The Movement Trilogy)
Home, DIY, & Crafts
Children's
THE TREE-WITHIN-THE-TREE (Happy Children's Series – Book 6 — Fun, Adorable Picture Book/Bedtime Story about Appreciation, ages 2-8)
Winter Muddle Puddles (funny bedtime story collection)
A Children's Book About Bats and their Amazing Facts, Figures, Pictures and Photos
Trapped: A Tale of Friendship Bog (Tales of Friendship Bog)
The Book of Nonsense (Sacred Books)
Biographies & Memoirs
Danger Road: A True Crime Story of Murder and Redemption
Cookbooks
Thanksgiving Simple As Pie (Delicious Pie Recipes)
How to Roast a Turkey in 10 Easy Steps
Incredibly Delicious Chicken Recipes from the Mediterranean Region (Healthy Cookbook Series)

Remember, though, that you do not need a Kindle e-reader to be able to read this book. You can read it on your PC, iPhone, iPad
, Blackberry and Android. Just download for free the appropriate application to be able to do that. Amazon changes prices without notice, so make sure to check that the kindle price it is still $0.00 before you start downloading this book.
As always, thanks, Rose Knows Coupons!