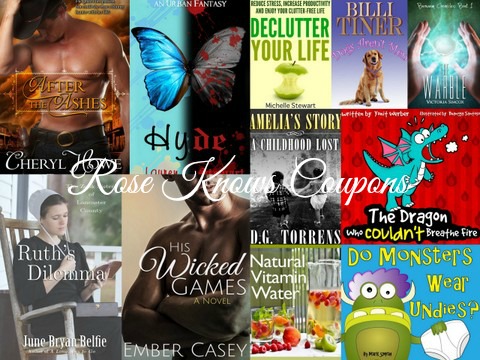 Every day Amazon offers a selection of Romance, Science Fiction, Fantasy and Teen titles at a discounted price. Kindle Daily Deals – Each day they unveil new Kindle book deals for adults and young readers with prices usually ranging $1.99-$2.99. These are only discounted for today.

Kindle Monthly Deals – Each month they unveil a new collection of 100 Kindle books for $3.99 or less. This list of free Kindle eBooks was created by Rose Knows Coupons. A big thanks to her for creating this list every weekday!
Contemporary & Romance

The Third Son (Kings of Cardenas)
His Wicked Games (His Wicked Games #1)
Hyde, an Urban Fantasy (Hyde Book I)
The Billionaire Wins the Game (Billionaire Bachelors – Book One)
Sleeping With the Enemy: Jackson Falls Book 2 (Jackson Falls Series)
Historical
Pride and Honour – The Battle for Saxony
Christian, Religious & Inspirational
Ruth's Dilemma (The Zook Sisters of Lancaster County)
Not a Sparrow Falls (The Second Chances Collection Book #1)
Morning Cup of Joy: Devotions & Inspiration for Daily Living
Young Adult
Cornerstone (Souls Of The Stones)
Mystery, Suspense & Action
Chasing The Storm: A Thriller Novel (Rygg & Marin Thrillers)
Memory Scents: A Psychological Thriller
Paranormal, Fantasy & Science Fiction
A March of Kings (Book #2 in the Sorcerer's Ring)
Finding Obscurity (The Secrets Series)
Planet Urth (Book 1) (Planet Urth Series)
Home, DIY, & Crafts
Declutter Your Life: Reduce Stress, Increase Productivity, and Enjoy Your Clutter-Free Life
Natural Kitchen Cleaners :The Ultimate Guide – Over 30 Green & Eco Friendly Solutions
Healthy Pet Food :The Ultimate Recipe Guide
Starting a New Garden (VOL. 1): How to Transform Your Yard and Patio Into Beds and Container Gardens (Growing Organic Vegetables at Home)
Children's
Children's Book: The Dragon Who Couldn't Breathe Fire (funny bedtime story collection)
Do Monsters Wear Undies? – A Rhyming Children's Picture Book ( Fun Ebooks For Kids )
GROSS GUS's Rotten Christmas! (Children's EBook ) Rhyming Picture Book for Beginner Readers ( Ages 2-8) (Gross Gus; Picture Books for Beginner Readers)
Biographies & Memoirs
The Reverent Surrender: A Memoir
Cookbooks
Sweet Potato Recipes :The Ultimate Guide – Over 30 Delicious & Best Selling Recipes
Natural Vitamin Water :The Ultimate Recipe Guide – Over 30 Healthy & Refreshing Recipes
It's all about Crepes – Easy to cook Vegeterian ,Fish or Meat , Sweet or Savoury . (Cook it now, it's easy and fun)
Any Room? Simple Dessert Recipes

Remember, though, that you do not need a Kindle e-reader to be able to read this book. You can read it on your PC, iPhone, iPad
, Blackberry and Android. Just download for free the appropriate application to be able to do that. Amazon changes prices without notice, so make sure to check that the kindle price it is still $0.00 before you start downloading this book.
As always, thanks, Rose Knows Coupons!