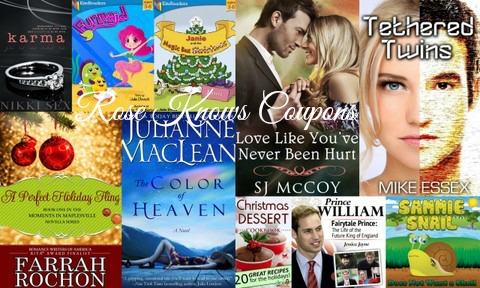 Every day Amazon offers a selection of Romance, Science Fiction, Fantasy and Teen titles at a discounted price. Kindle Daily Deals – Each day they unveil new Kindle book deals for adults and young readers with prices usually ranging $1.99-$2.99. These are only discounted for today.

Kindle Monthly Deals – Each month they unveil a new collection of 100 Kindle books for $3.99 or less. This list of free Kindle eBooks was created by Rose Knows Coupons. A big thanks to her for creating this list every weekday!
 Contemporary and Romance
Finding Happy (For The Love Of Chihuahua Series)
The Color of Heaven (The Color of Heaven Series)
Parched (Parched Series, A Vampire Romance, #1)
Breaking the Rules (Back to Brooklyn)
Love Like You've Never Been Hurt (Summer Lake Romance)
A Perfect Holiday Fling (Moments in Maplesville)
Wings to Redemption (An Alex Boudreau Adventure)
Searching for Love (Christian Romance Novella)
Historical
Murder at the Leopard (The Vespers Trilogy)
Behind the Iron Curtain: My Years Hidden As a Boy (Iron Curtain Memoirs)
David Crockett His Life and Adventures
Christian, Religious & Inspirational
Chasing Superwoman: A Working Moms Adventures in Life and Faith
Don't Buy the Lie: Eradicating False Belief Systems that Keep You From Your Destiny
Young Adult
Love on the Rocks 2 (Death, Love, and Drug Abuse)
Blue Ridge: Vol. 1 – The New Boy
There Once Was a Fable: 50 Riddles of Wisdom
Mystery, Suspense & Action
Murder at the Maples (Flora Lively Mysteries)
The Clinic (a chilling thriller)
Paranormal, Fantasy & Science Fiction
Alien Species Intervention: Books 1-3 (Species Intervention #6609)
This Plague of Days, Season Two (The Zombie Apocalypse Serial)
Illuminating Crystal – Book One in the White Bird Series
Home, DIY, & Crafts
Woodworking Projects and Ideas Images and Plans
Decorative Stained Glass Designs: 38 Patterns for Beautiful Windows and Doors
Everyday Natural Cleaning Solutions: Innovative Green Cleaning Recipes And Tips For Your Home
Children's
Children's Picture Books: Times to be Noisy, Times to be Quiet
Children's Book: Sammie Snail Does Not Want a Shell
Children's books : Good Night, Animals (Children's Picture Books; Bedtime stories for children)
Caarina the Cooking Fairy (KiteReaders Fairy Series)
Biographies & Memoirs
Prince William, Fairytale Prince:The Life of the Future King of England (Royal Princes)
Cookbooks
Christmas Recipes from My Table To Yours
Christmas Dessert Recipes from Around the World
Darn Good Eats: The Cookbook for Creative Chefs and Reluctant Cooks

Remember, though, that you do not need a Kindle e-reader to be able to read this book. You can read it on your PC, iPhone, iPad
, Blackberry and Android. Just download for free the appropriate application to be able to do that. Amazon changes prices without notice, so make sure to check that the kindle price it is still $0.00 before you start downloading this book.
As always, thanks, Rose Knows Coupons!