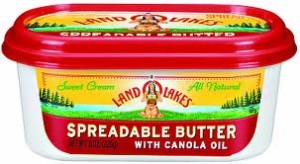 There's a new Land O Lakes rebate that can get you a coupon for a FREE Land O Lakes tub butter spread product! Just buy any 16 oz. package of Land O Lakes stick butter, fill out the rebate form, and mail it to:
Offer# 14-86151
POBox540062
El Paso, TX 88554-0062
You'll also need to include the original retail store cash register receipt dated between 3/30/14 and 5/31/14.
There was a printable coupon available for $.50 off half sticks of butter that expire in December, but I don't see it anymore. Check your binders if you printed it!.
If this is the type of butter you normally buy, there's also a printable coupon for $0.50 off LAND O LAKES Butter Spread Product.