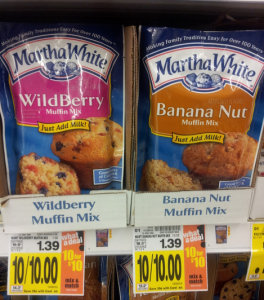 Attention Kroger & affiliate shoppers! If your location still doubles coupons, you can grab FREE Martha White Muffin Mix with the new $0.50/1 Martha Muffin Mix coupon.  Use zip code 97401* to find this coupon.
Special note: You will need to go to the coupons.com link here, change your zip code to the 97401* then EXIT completely out and then click on this link again to access the coupon.  I'm not sure why they made it that difficult but I was able to print once I followed those directions. 
Here's your deal:
Martha White Baking Mix – $1.00 (thru 12/30)
Use $0.50/1 Martha Muffin Mix (doubles to $1.00)
FREE after coupon
*To change the zipcode click on the "More" >>"Local Coupons" tab ad you will see the zip code field on the top left hand side, right below the Coupons.com logo.  After you have changed the zip code click back to the "Coupons" tab to find this one.
Thanks Kroger Krazy