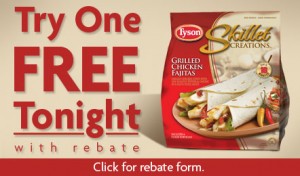 Try me free offers are a great way to try a product for free.  My first option would be a free item coupon but try me free rebates are the next best thing.  Of course, you need to make sure and follow up with sending the rebate out or you just end up paying for the item.  Instead of enjoying it for free.  Here's a try me free offer currently available that I want to share with you:
:::  Try Tyson Skillet Sensations for free (up to $8.99) with this rebate offer.  You must purchase before 10/31/09.  Also, you can use this printable coupon for $1 off one to help pay for the stamp.  Thanks Kaley!
Don't forget about this Pediasure rebate also available.