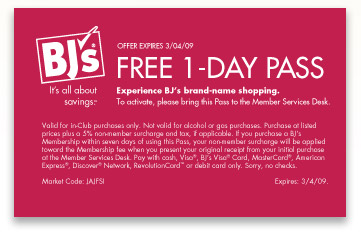 Enjoy a day of shopping at BJs without worrying about any membership fees.  Click here to get your one day shopping pass.  It expires on 3/4/09.
BJs is the only warehouse club I know that lets you use manufacturer coupons.  Here are some high value manufacturer coupons that you can use at BJs only:
$2 off any Johnson and Johnson's Baby product
$2 off any Listerine Mouthwash or breath freshener
$3 off any Splenda product
$4 off any Tylenol or Motrin IB.
Edited to add: Please note that these coupons say "Redeemeable at BJ's only" in the right lower corner.  Please don't try to use these coupons in other stores as chances are the store won't get reimbursed for them.  Don't make acceptance of internet printable coupons any harder than what it already is.
Happy Savings!