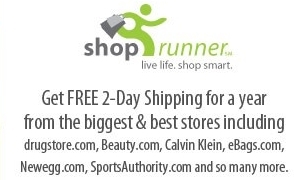 This is expired now.
Drugstore.com on their Facebook page is offering a Free one year membership to Shoprunner!  This is a $79 value!  What an incredible offer, you really want this one for these Holidays.  Some of the stores that work with Shoprunner are Toys R Us, Drugstore.com, 77 Kids, GNC and many more.  This offer is for new members only and you do not need to provide credit card info. It is totally FREE.
Thanks Good Deal Mama!