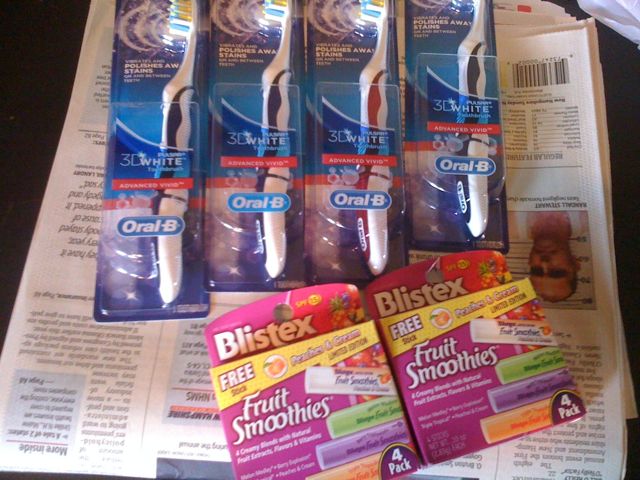 I just got back from my weekly Walgreens shopping and I have some exciting news to report.  First I went to take advantage of the Oral B toothbrushes deal I shared with you earlier.  To my surprise not only did a $2 register rewards printed but also a $3 bonus register rewards.  Here's how I got them free:
Bought two Oral B Pulsar toothbrush $4.99
Used B1G1 Oral-B Pulsar Manual Toothbrush 6/6/2010 P&G Insert (exp 7/31/2010))
Paid $4.99 out of pocket and got back one $2 RR courtesy of P&G and one $3 RR courtesy of Oral B.
So it seems there is an unadvertised RR deal going alongside.  I also tried my luck with the bonus packs of Blistex Fruit Smoothies.  They have an additional Blistex lip balm, so you get four instead of three.  They also produced the $3 register rewards that makes them free.
Finally a warning: the Aloe infused socks that are free after register rewards are NOT printing the register rewards right now. You may want to put off buying those until they fix that.  if you already bought them and did not get the register rewards, call the Catalina Company at 1-888-8coupons to get your RR by mail.
Editted to add: The Bonus $3 RR for the Oral B toothbrushes ends today.  So get your free toothbrushes today only.