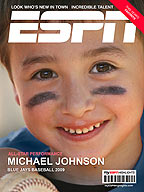 This is a great freebie that could help round up the room decor of the sports star in your family.  ESPN is offering the free design of a personalized poster.  All you need to do to get your poster is:
Design your poster: enter the name of your sports fanatic.  Upload your picture and create your poster.
Provide email address so you can have the image of the poster emailed to you.  Don't purchase the poster from them.
Now, if you want to go ahead and get this poster printed for cheap just do this:
Login or create a Seehere account
Go to Posters and upload the photo of the poster you created.Then have this poster emailed for you.  I even have a deal for you on where to get it printed for less.
Choose the size and add to your cart (prices range from $6 – $20)
Use code poster-24 at checkout to get 30% off your order and FREE Shipping
Andrea from MommySnacks ordered a 11×14 poster, used the code and paid $5.20 total!  That beats the $35 ESPN wanted you to pay for this.  What a great deal to thrill your sports star.  Thanks Mommy Snacks!