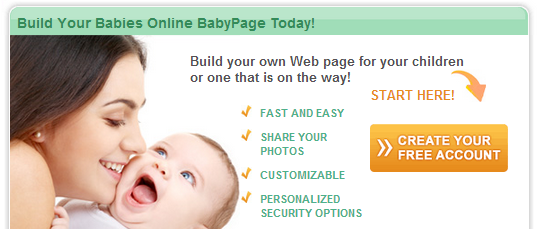 Keeping family and friends updated on your how your growing family is coming along would be so much easier with a website. Unfortunately, starting and maintaining a website can be expensive.
You can get your very own BabyPage from Babies Online absolutely free! When you sign up, you'll get an easy to build website where you can share pictures and news about your pregnancy and children with your loved ones. Friends and family members can also subscribe to your RSS feed, which updates them whenever you have news to share. Since you can personalize your own security options, it won't be seen by anyone you don't want. 
Create An Online Pregnancy Journal For Free! – Show off your expanding tummy to friends and family around the world
.
Find out how you can also get a FREE customized 5×7 photo book too!