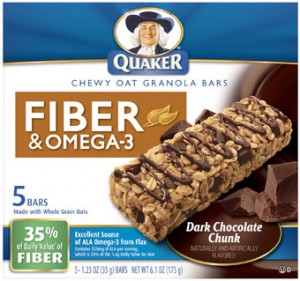 Update:  This offer is not available anymore.
Get a coupon for a free box of Quaker Fiber & Omega-3 Granola Bars.  All you need to do is add this Facebook application and complete your mailing information and your FREE coupon should be on its way.  This is a legitimate offer also advertised on Quaker Oats Facebook Fan Page.  Grab yours quickly just in case the offer goes fast.  It's a free full box of bars so it may just go very fast.
Thanks for the HOT scoop Mommysnacks!