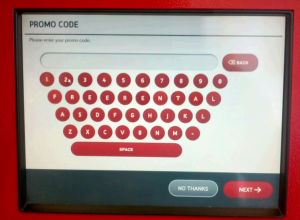 Free Redbox codes are a way to get free movie rentals from Redbox kiosks around the country. These codes are entered during checkout and your credit or debit card won't be charged, as long as you return the movie in time.
Where to Find Free Redbox Codes
There's a nice little list of different free Redbox codes that typically work for most Redbox customers. Most customers, however, can only use these codes once. The default free Redbox codes include:
REDBOX
DVDONME
BREAKROOM
DVDNIGHT
RENTONME
GAMEKIDS (Possible free game rental)
You can also get free Redbox codes a few other ways as well. For instance, you can get four free Redbox codes every month when you sign up for Redbox Instant. This subscription service also allows you to stream as many movies as you want every month on your  computer, Xbox 360, Samsung Smart TV & Blu-ray players, Apple iPhones & iPads, and Android phones & tablets. You can sign up for a free one month Redbox Instant trial before you commit to a monthly subscription. Your credit card won't be charged anything, if you decide to cancel within 30 days.
Sign up for the Redbox text club, and you'll be sent free Redbox codes on the first Monday of each month. To get on the list, text SIGNUP to 727272. To stop getting free Redbox codes and other messages, just text stop to the same number.
The Redbox Facebook page is another good place to find free Redbox codes. Just "Like" their Facebook page, and watch for free Redbox codes in your newsfeed. You can also sign up for Redbox emails on the Redbox website. You'll occasionally get a free Redbox code in your inbox.
How to Use Free Redbox Codes
To use free Redbox codes, you just need to visit a Redbox kiosk. These can be found all over, in grocery stores, malls, and drug stores.
Choose a DVD you want to rent, and add it to your cart. At checkout, you'll see a button that says "Add Promo" (or something similar). Touch this button on the screen, and enter your promo code in the appropriate box using the touchscreen keyboard.
You'll have to swipe your credit card, but don't worry – you won't be charged. Just make sure you return the movie by 9:00 PM the next night. If you don't return this movie by that time, your card will be charged $1.20 each day until you return the movie.
Keep in mind that free Redbox codes usually only work one time for each account or credit card used. Once you use a code, you won't be able to use it again unless you use a different account or credit card.
At some point during this process, you'll also be asked to enter an email address. I highly recommend doing so, if you haven't already. This is a great way to get even more free Redbox codes, as they are sent out in emails periodically.
Now it's your turn… Do you know of any free Redbox codes or have any tips to get free Redbox codes?