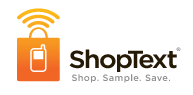 Shop Text is offering a free sample of Covergirl Lipgloss or Covergirl Mascara, or Olay Body Wash. You can only get one so choose wisely ;-):
Text BLAST to 467467 on your cell phone for Covergirl LashBlast Length Mascara.

Text SHEER to 467467 for Olay Sheer Moisture Ribbons Body Wash

Text GLOSS to 467467 for Covergirl Wetslicks Fruit Spritzers Lipgloss
If you are not yet registered with ShopText then you need to set up an account with them. Just go here, and register your cell phone number. You will then receive a text message with a code. You will need to enter the code where requested. Then fill out your mailing information (no credit card information required). You should then be set up with Shoptext and ready to take advantage of more of these exclusive free samples offers. You can then log in to your account and check the status of your order.
Please note that standard instant messaging charges apply or get free texting with Google Voice.
Thanks hunt for Freebies!