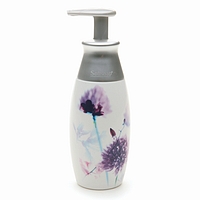 I got an email from Heidi sharing her clearance find at Target. She found the two packs of Softsoap ensembles replacements or the one pack pump on clearance for $3.00 each.  Use the $2/1 Target printable coupon available here AND any of the following manufacturer coupons to get them free:
$2/1 printable coupon (only prints once)
$1/1 from July Family Circle, or une Better Homes and Gardens or June Woman's Day or May All You mag (this one expires 8/1)
Some pumps also have a coupon for $0.75/1 stuck to them so be in the lookout for them.
I have been using these pumps for a while and I must say I really like the look of them and the soap seems to be very gentle on your hands.  This same find is being reported in one of the deal forums I visit and it seems to be nationwide.  So, add these coupons to your stash for your next target visit.  Thanks Heidi!
Happy Savings!