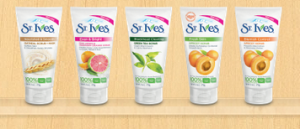 I love, love, LOVE St. Ives facial scrubs!
Head over to the St. Ives Facebook page and take a quick quiz to find your Scrub Love and get a FREE travel size sample of St. Ives facial scrub. You could also win one of 100 prize packs with five full-size St. Ives scrubs!
PS – I got Adventure seeker and Apricot scrub, which is what I usually use. What did you get?
Resources You Might Like: