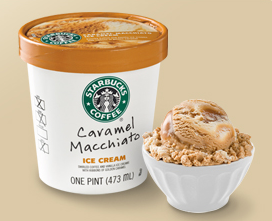 Starbucks is offering a coupon for FREE Starbucks Ice Cream to Facebook users.  To get your coupon first, make sure you are already signed in to your Facebook account.  Then click on this Facebook link.  This link will take you to the page announcing the coupon for FREE Starbucks Ice Cream.  Click on "Share" and fill in your information.  The coupon will be mailed to your home and it is limit one per household.  Offer not valid for TN, LA, and CO residents.   There are 20,000 coupons to giveaway but do not delay, this one will be gone very very soon!
Update:  The coupons are being giving away to the first 8oo people to sign up for it per hour, until all 20,000 coupons are given away.
If you miss out on this one, don't forget that you can get two pints of Starbucks ice cream for $0.79 at Walgreens this week.
Enjoy!